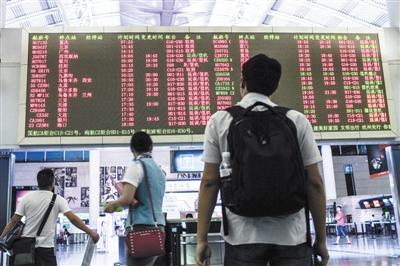 Numerous flights were delayed at Hangzhou Xiaoshan International Airport on July 26. [Photo/CFP]
China's civil aviation authorities Monday issued a red alert due to massive flight delays in eastern China, with officials warning that air traffic at the two Shanghai airports will drop by as much as 75 percent Tuesday.
Airspace activities in Shanghai will be busy between 14:00 and 18:00 Tuesday and at some time the two major airports, Pudong and Hongqiao, in the largest city in China will see its air traffic fall 75 percent, the Civil Aviation Administration of China (CAAC) said in a red alert issued Monday evening. Flights going through Zhengzhou and Shanghai will be equally affected.
Due to stormy weather, there have been massive flight delays in Eastern China for several consecutive days. The CAAC has suspended approval for temporary flight plans, such as civil airport business flights, extra flights and chartered flights.
The red alert coincides with live-fire military exercise starting in southeast coastal areas on Tuesday.
The exercise will have limited impact on civil aviation, the Ministry of National Defense said on Sunday.
Between 14:00 and 18:00 Tuesday, airports in eastern coastal areas, including Linyi, Xuzhou, Lianyungang, Huai'an, Yancheng, Changzhou, Yangzhou and Nantong, will be closed for landing.
Certain flights routed to fly northwards will not be allowed to take off from airports in Nanchang, Ganzhou, Jiujiang, Yichun, Jinggangshan, Jingdezhen, Wuyishan, Luqiao and Wenzhou.
Many passengers are rescheduling to take train because of the large-scale flight delays in the past few days. At Shanghai Hongqiao Railway Station, tickets for the Beijing-Shanghai high-speed railway are in short supply since passenger number has reached its peak during summer vacation.
Military and civil aviation management authorities are taking measures to minimize the exercise's impact on civilian flights by opening temporary air routes and allocating protective airspace, the defense ministry's information office said.
Military exercises have only a limited impact on civil aviation, according to the office. It said they are not the major factor behind recent flight delays, which were mainly the result of meteorological conditions.