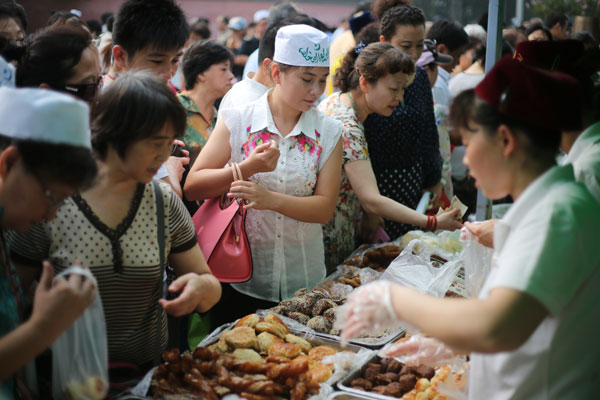 Muslims buy food to celebrate the Eid al-Fitr holiday in Niujie, Beijing, on Tuesday. Niujie has Beijing's largest concentration of Muslims. The holiday marks the end of fasting for the holy month of Ramadan. Wang Jing / China Daily 
A man of 77 has traveled 2,400 km to celebrate Eid al-Fitr, the Muslim festival that marks the end of the holy month of Ramadan.
Ma Hongtian and five members of his family flew from Harbin in Heilongjiang province, where he lives, to Yinchuan, the capital of the Ningxia Hui autonomous region.
He celebrated the festival on Tuesday with fellow Muslims who are members of the Hui ethnic group. More than 14,000 worshippers gathered at the 8,000-square-meter Nanguan Mosque, one of the well-known Islamic shrines in the northwest.
"Back in Harbin, there are only a few Hui ethnic people, so we cannot fully enjoy the festival atmosphere," said Ma. "In Yinchuan, people began to gather at the big mosque very early in the morning to say prayers and greet each other."
Muslims fast from dawn to dusk during Ramadan, which ended on Monday. Eid al-Fitr means "The Festival of Breaking the Fast", and is one of Islam's most important holidays. It has particular significance for the Hui ethnic group.
Muslims in Beijing, the Xinjiang Uygur autonomous region, Gansu province, Qinghai province and other parts of the country celebrated the festival. The emphasis was on family reunions, meeting friends, enjoying meals and wearing new clothes.
Ma Fugang, 28, a chef at a Hui-influenced Uygur restaurant in Beijing, started celebrating the holiday with breakfast at 5:40 am. He went to the mosque while his wife prepared food at home, then visited his parents and called other relatives.
He spent 6,000 yuan ($960) celebrating the holiday, most of it going on food and new clothes.
He Zhangjun, who led prayers at Nanguan Mosque, said many more Muslims had joined the celebrations in the past two years.
"It's a good sign," said He. "It demonstrates the development of Islam in China and the freedom of citizens to take part in religious events. I think it also shows people are having a great life right now."
Officials provided support for the celebrations. For example, the government in Yinchuan set up six supply centers to provide more than 300 tons of mutton at a fixed price.
Some enjoyed the holiday even though they had chosen not to fast during Ramadan.
Erken Rouz, 47, a civil servant with the Urumqi Railway Bureau in the Xinjiang Uygur autonomous region, said, "My wife and I need to work every day.
"Sometimes I have to take business trips and it is impossible for us to fast."