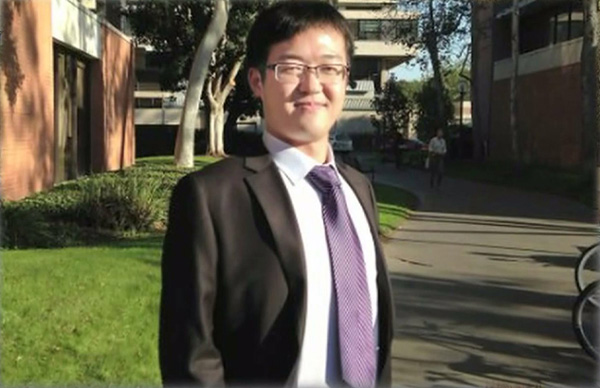 Chinese graduate student Ji Xinran, file photo. [Photo/CRI]
LOS ANGELES - Two adults and two teenagers were charged with murder on Tuesday for the beating death of a University of Southern California (USC) student Ji Xinran from China.
Jonathan Del Carmen, 19 and Andrew Garcia, 18, are charged along with Alberto Ochoa, 17, and Alejandra Guerrero, 16, in the attack on 24-year-old Ji Xinran.
The four are scheduled to be arraigned Tuesday afternoon.
Prosecutors have not decided whether to seek the death penalty against Del Carmen and Garcia. Ochoa and Guerrero cannot face the death penalty because they are under 18.
Garcia, Ochoa and Guerrero are accused of using a bat during the crime, in which prosecutors said Ji was beaten and struck in the head.
Ji, an electrical engineering graduate student, was attacked while walking back to his apartment near the campus around 12:45 am (0945 GMT) Thursday near 29th Street and Orchard Avenue. He was found dead in his apartment hours later. A trail of blood marked the path Ji walked.
Garcia, Ochoa and Guerrero were also charged with second-degree robbery, attempted robbery and assault with a deadly weapon for an alleged attack on a man and a woman at Dockweiler Beach later that day, according to the authority.
Ji's killing marked the second deadly attack on USC graduate students from China around campus since two students were shot dead in April 2012.
Related stories about attack on Chinese students abroad:
Chinese USC grad student found dead after attack
A 24-year-old Chinese graduate student at USC was found dead at his off-campus apartment after being attacked by at least three men as he was walking home from a study group. Police said they were called at about 7 am on Thursday to an apartment in the 1200 block of 30th Street where they discovered the body of Ji Xinran. More
Student deaths shake Chinese communities in US
2 Chinese students shot dead in Los Angeles