WASHINGTON  - The annual global investment in forests, wetlands and other ecosystems that help keep human water supplies clean jumped by a third over four years to more than $8 billion, with China accounting for about 90 percent of that, according to a report released on Wednesday.
China accounted for more than $7.46 billion of spending in 2011 on natural water protection, known as watershed payments, according to Forest Trends' Ecosystem Marketplace, a Washington, DC-based environmental advocacy group. US investment that year was $360.5 million.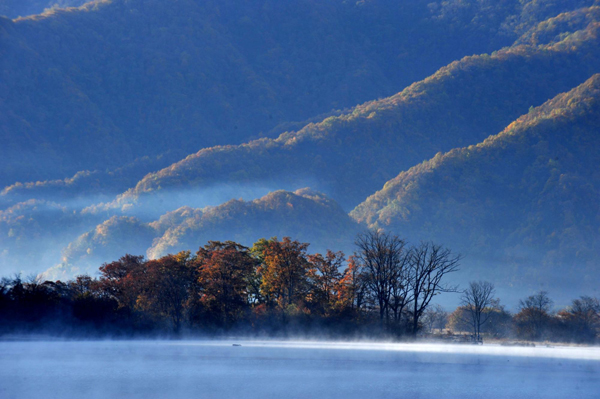 A snapshot of the autumn scenery of Dajiuhu Wetland Natural Reserve in Southwest China's Sichuan province on Oct 17, 2012. [Photo/Xinhua]
Other projects were mounted by beverage companies in Uganda and France, focusing on environmental protection of the water sources that fuel their businesses, the report said.
These projects are considered separate from conventional investments in dams, pumps, treatment plants or pipelines to move water from one place to another, according to report author Genevieve Bennett, a researcher for Forest Trends, which focuses on forest and water conservation.
Most times, Bennett said that investing in what she called natural water infrastructure is far cheaper, adding that the value is likely to increase as the world's supply of clean water becomes scarcer.
The Organization for Economic Cooperation and Development estimates world investment in water infrastructure will reach $1 trillion by 2025. Current spending is around $80 billion, 10 times the total natural infrastructure investment for 2011.
China is the world leader in offering compensation for ecological restoration and protection, the report said. One Chinese program provided health insurance benefits to 108,000 people upstream from the coastal city of Zhuhai in exchange for adopting land use practices meant to improve drinking water for the region.
Related:
Old pipes may taint Beijing water: experts
Beijing starts publishing tap water quality info
Beijing tap water getting worse: expert
Legal action launched over polluted water
Hebei reservoir water quality restored