A program which originated in the Europe is now taking hold on the mainland
Three-year-old Yoyo has a special friend in his home this summer.
Isabell Rohde, 18, from Spangenberg, a small town in central Germany, is spending six months as an au pair with Yoyo's family in southwest China's Chongqing.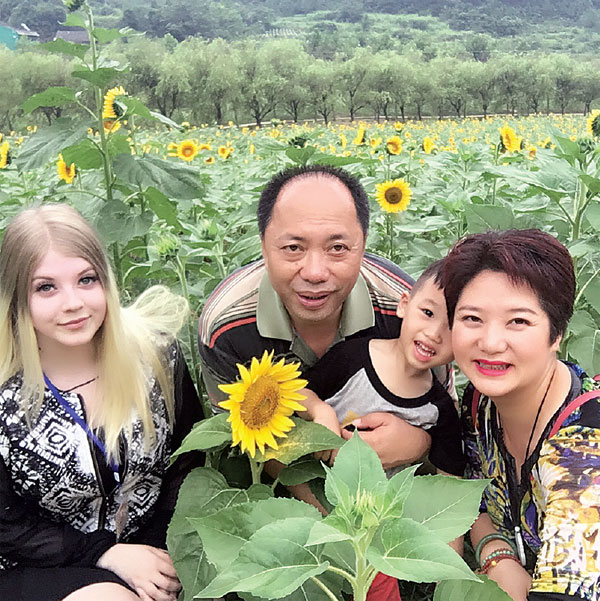 Isabell Rohde (left) on a trip with Pu Yongjian's family. Provided by Pu Yongjian
Like many European peers, the young woman decided to take a gap year to experience some foreign culture before going to college.
"I was looking for an opportunity to experience a different culture after finishing high school," Rohde tells China Daily.
"It's my first time abroad."
At Yoyo's home, her main duty is to take care of the boy, play with him and teach him some English. She will also take some Chinese language courses every week and travel with the host family.
The au pair program originated in Europe after World War II to promote cultural exchanges among young Europeans.
Au Pair, a French term, means "at par" or "equal to", and indicates that the au pair is on par with other members of the family, rather than a traditional domestic help or nanny.
Au pairs live with their host families and look after the children. In return, they get an allowance and opportunities to study a foreign language.
Due to visa restrictions and limited demand, the au pair program was not introduced in China until the early 2000s.
At first, it was Chinese au pairs going out, mainly to the United States, as some American parents started to realize the importance of learning Chinese.
In 2006, Yu Hongbin, from Harbin, northeast China's Heilongjiang province, was the first Chinese au pair to land in the United States, according to the New York Times.
In China, the demand for au pairs has started to grow in recent years as some affluent and ambitious Chinese parents want their children to get a hands-on feel when learning a foreign tongue.
In 2014, a Chinese movie, When a Peking Family Meets Au Pair, drew public attention to this concept.
Based on the experiences of a Chinese host family, the movie is about how a traditional Chinese family gets along with a Colombian au pair called Natalie.
Yoyo's father Pu Yongjian, an economics professor at Chongqing University, learnt about the au pair program this year through an English teacher whose friend is running an au pair agency in Chongqing.
"My son likes English very much, so I want to have an English-speaking au pair to help him practice the language at home," says Pu.
But at first, the agency told him it might take a while to find an au pair who wants to come to Chongqing, a lesser-known Chinese city in the underdeveloped western region.
Typically, foreign au pairs want to live in Beijing and Shanghai.
"Bai Mei (the Chinese name Pu gave to Rohde, which means white plum blossom) is an exception," says Pu.
"She wanted to go to the 'backward' part of China."
My academic and professional background also attracted the German student who plans to pursue an economics degree in college when she returns home, the professor says.
Explaining how au pairs and families are matched, Ma Senhu, the general manager of the Chongqing Holiday Cultural and Tourism Exchange Center, which helped Pu find the German au pair, says: "Our clientele comprises well-educated professionals with international exposure, such as professors, lawyers and entrepreneurs."
There are about 10 agencies who are involved in the au pair program in China and about 700 foreign au pairs came to the country last year, says Ma.
"Thanks to the country's fast growth, an increasing number of young foreigners are applying for positions in China," he says.
The agency has matched 15 Chongqing families with au pairs this year.
"The selection process is mutual," says Ma, adding that the two sides communicate directly via email and video chats to see if they click.
"Almost no foreign au pair can speak Chinese, so Chinese parents need some foreign language skills," he says.
Meanwhile, though an increasing number of Chinese parents are buying into the program, many have concerns about the system.
She Ke, the editor-in-chief of a fashion magazine and a mother of two young children, says: "I cannot imagine having a foreigner living in my home.
"It can lead to lot of cultural and lifestyle conflicts. For instance, do I have to prepare Western food for the au pair every day?"
Zhuang Yilin, a senior manager at a multinational company in Shanghai and also a mother of two, has been thinking about having an au pair for some time.
"It is not easy to find a trustworthy one," she says.
"I want an au pair with a good personality and a positive attitude. I have heard some negative feedback about au pairs in China, so I am being very cautious."
Language experts also say that it is not necessary to have an au pair for kids at very young age.
Liu Jian, Chief Academic Officer of Best Learning, an English language training center, says: "While having a native speaker at home is obviously the best way to pick up a foreign tongue, if the child is only three years old, the au pair is just a babysitter and cannot teach the child a lot. I think the proper age (for a child to have an au pair) is around 10."
tanyingzi@chinadaily.com.cn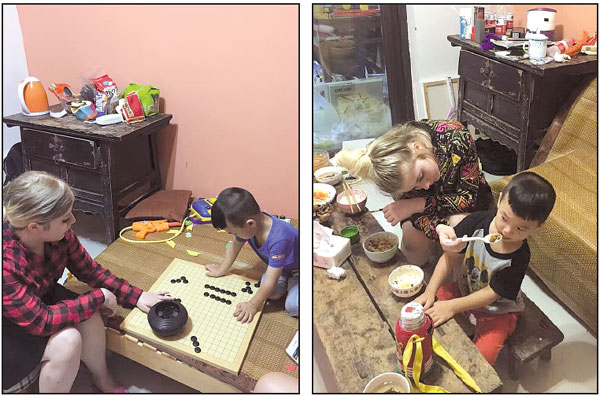 Isabell Rohde's job is to take care of and play with Yoyo. Photos Provided by Chongqing Holiday Cultural and Tourism Exchange Center