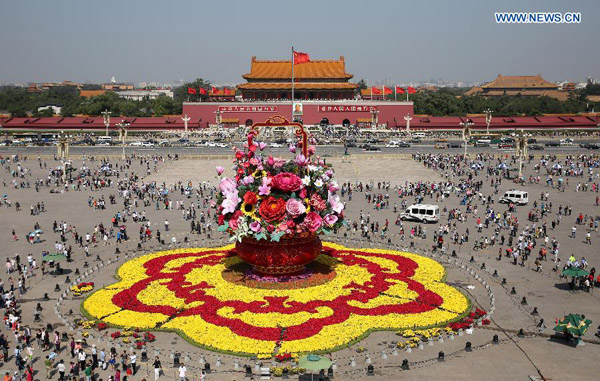 Photo taken on Sept 26, 2015 shows a gigantic flower basket presented at the Tian'anmen Square in Beijing.[Photo/Xinhua]
All flower decorations for this year's National Day celebrations on Tian'anmen Square and along Beijing's Chang'an Avenue will be made through 3D printing, according to a layout plan revealed on Thursday.
This is not the first time 3D printing has been used for National Day decorations - the gigantic flower basket on Tian'anmen Square last year was made using the process. But this year, all other decorations along Chang'an Avenue will also be 3D printed , including five from Jianguomen to Dongdan, and another five from Xidan to Fuxingmen.
The Tian'anmen Square decorations will also include a gigantic flower basket, as has been the case since 2012. It will be 18m tall, a meter taller than the last year's. The diameter of the basket's biggest flower will reach three meters. The construction company has told tourists the best photos can be taken between 30-35m from the basket.
Laser projection will also be used for the first time to provide a better night view of the decorated Tian'anmen Square.
There will be more than 200 flower decorations in different sites in Beijing and more than 15 million pots of flowers will be presented.
Themes such as the Winter Olympics, which will be held in Beijing and Zhangjiakou in 2022, the "Belt and Road" initiative and the Long March, which celebrates its 80th anniversary this year, will be integrated into the flower decoration designs.
Construction of Tianianmen Square's huge flower basket will begin on the night of September 17 after the Beijing Marathon concludes that day, making it the latest start date in 32 years. It's estimated to be completed by September 25 and won't be presented until mid-October.
Also of note is that about 167 thousand pots of a new type of chrysanthemum, cultivated in Beijing, will be presented in this year's decoration project for the first time. This new variety blooms earlier than others and will be in full blossom around October 1, when the National Day falls.