Pili Mwinyi Khamis works for China Radio International (CRI) and she is involved in the production of several programs, including the weekly China in My Eyes. Khamis, 38, was also among 20 foreign experts invited by China's new leader Xi Jinping for a round table discussion on Dec 5.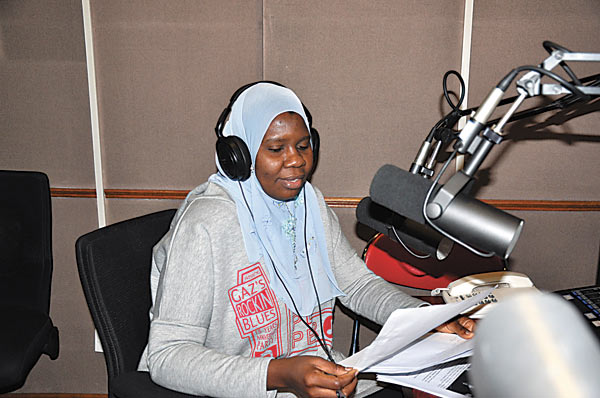 Pili Mwinyi Khamis prepares a broadcast in the CRI studio.LIU XIANGRUI / CHINA DAILY
A month later, the Tanzanian still finds it hard to contain her excitement.
"We sat around and he asked for our advice. I was so excited to be among them," says Khamis, adding the only thing she said when she shook hands with Xi was to congratulate him on his elevation.
Wearing her traditional Muslim dress with her head covered by a light blue scarf, the Swahili language broadcaster says she was surprised when her department director told her of the invitation. But although she was surprised by the honor, her colleague Chen Lianying was not.
"We all agree she is diligent and has done very well at work. More importantly, she stands out with her long experience in China and good knowledge of the country," Chen says.
Khamis has worked with CRI for more than five years, and before that she was both a teacher and broadcaster in Tanzania. After she was selected for the exchange program in China, Khamis was as anxious as she was excited.
"It was my first time abroad, and I knew little about China," she says.
Lessons about the new country and its culture started the day she arrived, at the table of her welcome dinner.
Khamis, who had never even seen chopsticks before, was taught to use them by her colleagues. It took her more than a week to master the art, and then she was teaching her husband, who had come to China with her and was starting a business.
"Now we find chopsticks even more comfortable than forks and knives," she says.
To Khamis, China was very different from what she had in mind, especially its degree of development.
"I found it's more like a developed country," she says.
Khamis began to love her job as a journalist here, which she believes helps her understand China better and faster.
Her work takes her out of Beijing and around China. Last year, she had a chance to visit Ningxia Hui autonomous region, where she found herself surrounded by Muslims.
"I saw men wearing Muslim caps and women covering their heads. We had so much in common. It was like going back home," says Khamis, impressed by the diversity of Chinese culture.
According to Chen, Khamis often goes out on the streets to experience local life to prepare for her program and she shares her experiences in vivid details with her listeners.
"She captures the audience by creatively comparing China with Africa, with both differences and similarities," Chen says. "It's become a popular program."
Khamis often shares her professional experiences with younger colleagues, Chen adds.
She says part of the fun of working here is being able to share experiences across cultures. "We broadcast in more than 60 languages here. It's great to learn about different cultures from my colleagues and share my own."
The perfect time for such sharing is at celebrations and parties. For instance, Khamis performed an African dance last year when CRI celebrated its 70th anniversary. Recently, she joined other foreign employees to celebrate the New Year and sang African songs.
Khamis enjoys the cooperation between Chinese and African colleagues, such as when her department successfully translated a Chinese drama about life in China into Swahili.
It was often hard to make certain Chinese terms understandable to native Swahili speakers, and Khamis and her African colleagues spent a lot of their time explaining native African culture to their Chinese colleagues.
"We were always able to find solutions, often after discussing as a group," she says. Encouraged by that success, the department has started to translate another drama and a Chinese dictionary into Swahili.
Many colleagues have become her best friends and among them, Zhou You, 26, is the one Khamis turns to for help when she has a language problem.
"He is my teacher. When it gets really difficult for me to communicate with Chinese people, I call him," she says.
Under Zhou's suggestion, Khamis used her marketing trips to practice Chinese and learn more about local culture from the ground. Now, she has not only learned how to greet people and ask for prices in Chinese, but has also started to bargain in simple Chinese.
"In return, she often prepares Tanzanian food at home and shares it with us at the office," says Zhou, adding that Khamis is a warm-hearted woman always willing to interact with colleagues.
Khamis has developed a love for Chinese food and has learned to cook some, including jiaozi, or dumplings.
When the exchange program was about to end last year, Khamis told her department director of her reluctance to leave. Her director successfully persuaded her boss back in Tanzania to let her stay on.
"That's why I am still here in China," says Khamis happily, and adds she plans to study in China for a master's degree in journalism and bring her 8-year-old son to school here as well.
Contact the writer at liuxiangrui@chinadaily.com.cn