In the 1990s, when silver handicrafts were rare in Li's area, Li Zhengyun and his father used to spend years away from home, visiting villages and households to produce sets of silver works for Miao women, such as silver headpieces, bracelets and silver ox horns, which are very important ornaments during weddings, funerals and holidays.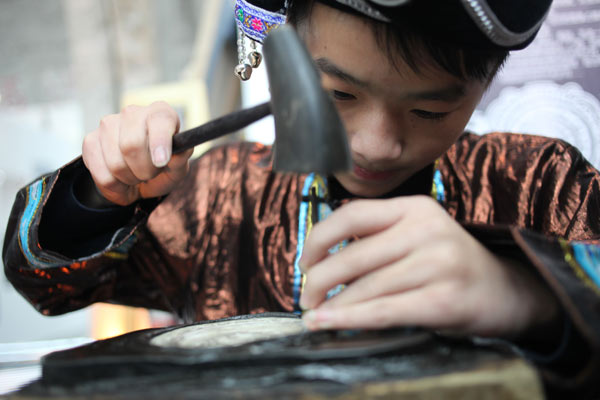 Li Chen, 12, concentrates on making a silver ornament at a recent Guizhou handicrafts exhibition in Beijing. [Photo by Wang Jing / China Daily]
"It was common for us to spend a year, or even several years, in one village of 500-plus households," Li says. "We were accommodated at the customers' houses while making silver crafts for them."
At that time, Li and his father earned roughly 6,000 yuan a year. That money provided food for their family, which also relied on growing corn and raising pigs.
Together with his elder brother, Li now owns a silver-ornament workshop, which receives orders and customers from all around the country, and their income has increased tenfold.
"My cousin recently opened a store selling our goods on Taobao.com," his son Li Chen says. "The business has not gone very well as it is just getting started. But we believe that things will get better."
Li Chen and his 16-year-old sister are tutored in painting once a week. Their father invites professional art teachers to teach them at home, paying 50 yuan per hour.
"Constant and early training can help to improve their skills and enlighten their art-design ideas. And this will help them go to professional art colleges like the China Academy of Art in the future," says the father.
Since 2012, the elder Li has been giving lectures in the art school of Shanghai University, China Academy of Art and Nanjing Institute of Arts and Crafts. University students majoring in arts also visit his home in Guizhou during holidays to learn the skill.
"It is our responsibility to pass the skill to younger generations as we are getting older," he says. "I wish we could expose the handicraft to more people outside of Guizhou."
He also says that today, silver decorations have changed from traditional Miao propitious figures to those that are more popular among Han people, as his workshop receives more orders from the big cities.
But in his heart, the father wishes his children would seek a life different from his.
"For most days of my life, I have worked all day till midnight on making silver handicrafts, but I make very little money," Li says. "If my children go to college, I hope they can do majors such as finance and international business. In that case, they can become businessmen and make big money, so that they do not have to work as hard as we did."
Contact the writer at zhangyue@chinadaily.com.cn.