BEIJING, December 24 - On Christmas Eve Chinese youngsters embrace the festival like Westerners but not for the religious reasons or for family reunion.
Young people have found their "Chinese way" to celebrate the traditional Western festival. For them, Christmas is more like an excuse to have a break from their busy lives.
Liu Ping, a postgraduate student from Shanxi University of Finance and Economics, spent last Christmas having a dinner with her boyfriend and enjoying the sales.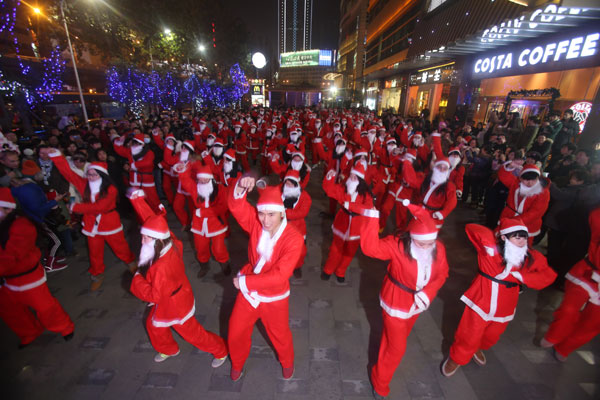 One hundred Santas dance in Wuhan, Central China's Hubei province on Christmas eve on Dec 24, 2012. [Photo/Asianewsphoto]
"I had a great time, and I'm planning to do the same this year, " Liu added, recalling she spent 10,000 yuan (1,604 U.S. dollars) on the day.
In many department stores across the country, Christmas decorations, trees, Santas and jingle bells can be found, luring shoppers.
Sales volume on Christmas Eve is the highest for the whole year, according to Kang Wei, director of the sales of Guidu department store in Taiyuan, north China's Shanxi Province.
Experts believe more Chinese youngsters have started celebrating Christmas due to pressures and seize any opportunity to have fun.
"Carrying a lot of pressure, the young seek to relax, providing moneymaking opportunities for merchants," said Ma Zhichao, director of humanistic resource development and research center of Shanxi Academy of Social Sciences.
"Festivals like Christmas have been turned into a shopping festival, even a carnival," Ma said.
While some Chinese are celebrating Christmas in a commercial way, another group of people are seeking the original meaning of the Western festival.
On Sunday, two days before Christmas, Chen Kejia was baptized and became a Christian.
"I chose to be baptized on that day. To spend a real Christmas with other Christians," said Chen, a nurse at a foreign-funded hospital in Beijing.
Chen said the most attractive part of Christianity is love. "To love your family, your friends, colleagues, and people you don't know."