FUZHOU - Police have rescued 89 children and arrested 355 suspects after busting nine child trafficking rings, the Ministry of Public Security said Monday.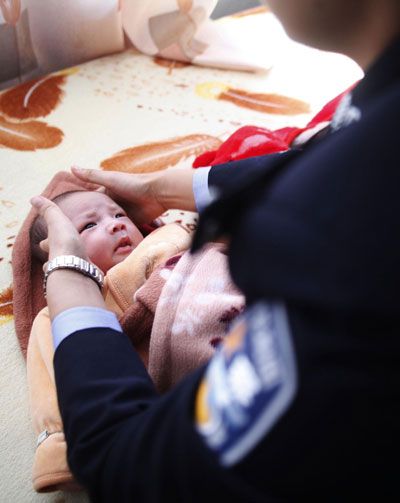 A baby is resued by police from a child trafficking ring in Quanzhou, Fujian province on Dec 19, 2012. [Photo/Xinhua]
Police officers from nine provincial-level regions, including Fujian, Yunnan, Sichuan, Anhui and Guangdong, took part in a joint operation beginning December 18 to break trafficking networks, according to Chen Shiqu, director of the anti-trafficking office of the ministry's criminal investigation division.
The children are being cared for at local nursing homes and police are searching for their parents.
"We will collect the children's DNA and use it to find their parents within a national DNA database established for anti-trafficking purposes," Chen said.
Human trafficking is a serious problem in China. Infants, particularly males, are sold to couples who have otherwise been unable to have a child.
Wang Xizhang, deputy head of the criminal investigation division of the Fujian provincial public security department, said large profits have also led to rampant child trafficking.
Wang said a healthy male infant bought with 30,000 yuan (4,810 U.S. dollars) in poverty-stricken provinces such as Yunnan can be sold for 70,000 to 90,000 yuan in the comparatively well-off provinces of Fujian and Guangdong.
In recent years, China has taken a tough stance on trafficking and repeatedly launched crackdowns.
Since April 2009, when the ministry started a campaign to crack down on trafficking, police on the Chinese mainland have broken up 11,000 child trafficking rings, rescuing 54,000 children, according to Chen.