A police chief in Northeast China is being investigated over online claims he gave promotions to twin sisters he was sexually involved with.
Qi Fang, director of public security for the Xinjiang Uygur autonomous region's Usu city, is being probed by the Party anti-graft agency.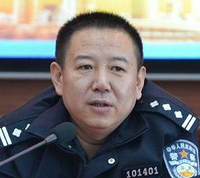 Qi Fang, director of public security for the Xinjiang Uygur autonomous region's Usu city
But information related to the allegations and investigation is unclear, with one police official saying Qi is still on the job and another saying the reports of sexual misconduct are patently false.
"The Party discipline committee has decided to investigate, but our bureau cannot give any information at this stage," a discipline official at the Usu Public Security Bureau said on Thursday. "I haven't seen the investigation team yet."
According to Beijing News, a post on iyaxin.com, a news website and the biggest online forum in Xinjiang, alleged that Qi had given his two mistresses jobs and used funds to rent an apartment for them in an up-market community.
Although the post was quickly deleted, the information has been widely circulated on the Internet.
"Online posts and comments are both true and false," said Duan Liang, a professor with the Party School in Xinjiang.
"How to sift the true from the false and better fight corruption via the Internet is a challenge for the Party and the government," Duan said.
She said online supervision is an effective measure to prevent corruption and malpractice, but the anti-graft agency should double-check the credibility of information before launching a full investigation.
"Our Party faces challenges from the Internet," she said. "The discipline committee is on the sidelines, as corruption cases and sex scandals are always exposed online.
"The supervision of government officials is insufficient. Online supervision has become another important channel for anti-corruption efforts, and the public speaks to the government through the Internet."
One of the women was appointed deputy director of the county's special police force in March, while the other joined its traffic police branch, the post said, adding that the women are 31-year-old twins and are both former actresses.