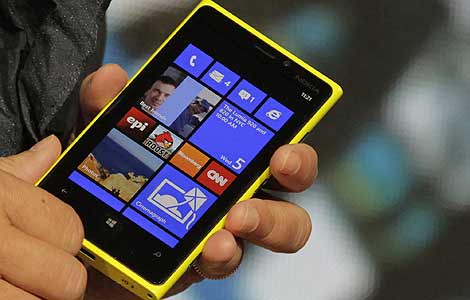 A Nokia executive shows the new Lumia 920 phone with Microsoft's Windows 8 operating system at a launch event in New York, in this September 5, 2012 file photograph. [Photo/Agencies]
HELSINKI - Nokia is to partner with China Mobile, the world's biggest operator, to launch a version of its flagship Lumia smartphone tailored for the world's largest market.
China Mobile, which has more than 700 million subscribers but no contract to sell iPhones, will start selling the Lumia 920T, the first phone to be based on Microsoft's new Windows Phone 8 platform.
Nokia's Lumia 920 and 820 models are seen crucial for the Finnish company as it tries to regain market share from Apple and Samsung.
"People around the world are responding positively to the new Lumia devices, and we are confident that the enthusiasm will extend to China," president and chief executive Stephen Elop said.
China Mobile's take-up of the 920T, which will use the carrier's home-grown TD-SCDMA network standard, reassured investors about sales of the new phone series.
Also on Wednesday, Nokia unveiled the Lumia 620, its cheapest Windows 8 smartphone. It will be priced at $249 and begin selling in January, first in Asia.
Nokia shares were up 7.1 percent at 1110 GMT. The stock, which has edged higher in recent weeks on hopes of promising Lumia sales, it is still down 28 percent this year.
"It is not a surprise, but it still means a giant opportunity for Nokia, maybe one of the best opportunities for its smartphones right now. This market has a lot of piled-up demand for high-end smartphones," Nordea Markets analyst Sami Sarkamies said.
He said Lumia sales might be helped by the fact China Mobile is the only carrier in China without a contract to sell iPhones.
The Lumia phone will be available for order in China by the end of the year, a bit later than expected, Sarkamies said.
Nokia's share of the global smartphone market has plunged to less than 10 percent from 50 percent during its heyday, before the iPhone arrived in 2007. Today, Nokia is reliant on Windows after dumping its own software platforms last year.