Eight Amur leopards, two males and six females, were identified in the survey. Their habitat has grown to 2,064 square kilometers, which is three to four times of that in the late 1990s, according to the survey carried out in Jilin's Changbai Mountains.
Echoing the report, scientists with the Hunchun Nature Reserve said their field cameras spotted Serbian tigers and Amur leopards more than 20 times from August to November.
The recovery of Amur leopards can be attributed to the stabilization of habitat, an effective hunting ban, and support from local residents.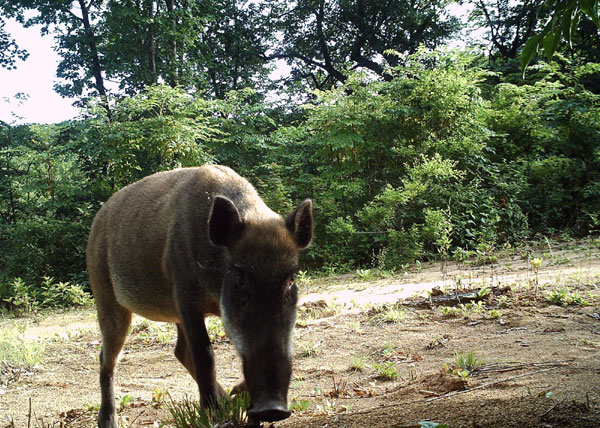 Photo taken on July 18, 2012 shows a wild boar in a nature reserve in Hunchun in the northeastern Chinese province of Jilin, home to a quarter of all the rarest cats in the world. [Photo/Xinhua] 
Lang, the conservation official, said the number of wild animals like boars, pheasants and deer, has been increasing in the Hunchun Nature Reserve, which fixed the food chain that supports leopards and tigers.
Jilin banned hunting wild animals on the land in 1996. Since then, the provincial authorities has investigated about 1,800 criminal cases against endangered wild animals, detained more than 400 people and jailed 52, said JPFD Deputy Director Qiao Heng in April.
In a bid to gain support from residents living in the predators' habitat, the Jilin provincial government said by the end of 2011, it had spent 38 million yuan (6.1 million US dollars) compensating those injured by protected wild animals.
The animal protection authorities in Jilin promised to expand the nature reserve and improve the monitoring network so that it can provide better information on the animals.