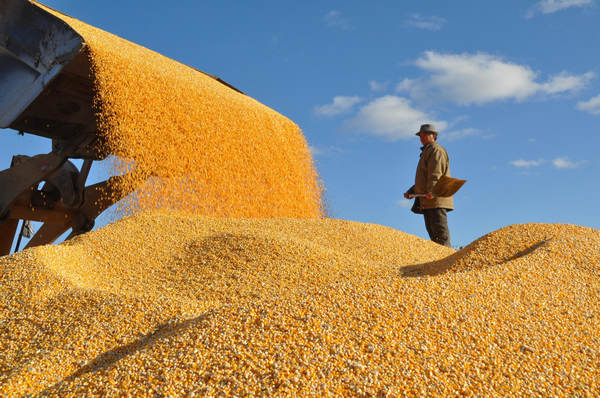 The harvested kernels are refined in Bei'an city, Northeast China's Heilongjiang province, Oct 28. [Photo/Xinhua]
China's grain output rose 3.2 percent year on year to hit 589.57 million tonnes in 2012, marking the ninth consecutive year of growth, data from the National Bureau of Statistics (NBS) showed Friday.
The corn output amounted to 208.12 million tonnes, up eight percent from a year earlier, while that of rice and wheat gained 1.6 percent and 2.7 percent, respectively, to 204.29 million tonnes and 120.58 million tonnes, according to the NBS' online statement.
These numbers show that corn has replaced wheat as China's largest grain variety, the statement said.
In 2012, China's grain planting areas totalled 116.83 billion hectares, slightly rising 0.6 percent from 2011, the NBS said.
The statement attributed the growth to the generally favorable weather conditions in the country's farming regions, as well as the government's increasing input in the area to ensure food security for the country's 1.3 billion people.
This year, China expanded the subsidy program in agricultural production and raised the minimum purchase prices for wheat and rice to stimulate grain production.
China launched the minimum pricing program in 2006 to protect farmers from price volatilities, stipulating that the government will buy wheat for state reserves at a set price when market prices fall below it.
The central government has also set aside 3.32 billion yuan (530 million U.S. dollars) this year to support the applications of key technologies to combat the spread of pests and mitigate the impact of droughts.
The average per unit area yield rose 2.6 percent from 2011 to hit 5,299 kg per hectare this year.