The head of Deere & Company, the world's largest agricultural machinery manufacturer by revenue, says the US company is to invest further in China over the next few years, as the country strives to update and improve the agricultural sector to feed its growing population.
Samuel Allen, chief executive officer of the company, best-known as John Deere, highlighted the government's plan to introduce more advanced agricultural machinery, which may help raise China's grain yields by between 20 and 30 percent.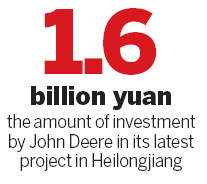 "We will continue to invest in China, on localizing our production facilities, on research and development centers, and by optimizing our current facilities," Allen told a news conference on Friday in Harbin, capital of Heilongjiang province.
He was there to open its latest site in the country - a 1.6 billion yuan ($250 million) investment, covering 400,000 square meters, which encompasses R&D facilities and an assembly plant, which will produce nearly all of its models of agricultural machinery.
Allen said that the company's eventual total investment in China could be huge, but declined to disclose the exact amount.
John Deere first came to China in 1976, one of the earliest US companies to invest in the country, and it has managed to achieve steady expansion ever since.
Its latest move was setting up a construction machinery plant in Tianjin in June, and it now has eight production facilities across China, two of which are in Heilongjiang province, which accounted for a seventh of the country's total grain output in 2011, according to government data.
"Heilongjiang is the frontline of China's mechanization in the agricultural sector, and our Harbin plant will be of significant importance to our business in China," added Liu Jinghui, the company's China president.
As a result of China's recent slowdown in economic growth, the appreciation of its currency and rising labor and other costs, a number of US manufacturers have recently expressed concern over their business in the country, and suggested they could move production back to the United States.
But Allen said that John Deere has a solid perspective for its business in China over the next 20 to 30 years, partly because of the sheer size of the country's market, but also because of its need to boost food production as the population rises.
China achieved bumper harvests for eight consecutive years up until last year, with annual grain output currently standing at 571 million tons. The Ministry of Agriculture recently said that there will be further increases in this year's grain yields.
Allen highlighted the government's policies to meet the country's growing agricultural demands as key to John Deere's expansion plans, particularly the planned introduction of more advanced agricultural machinery, to raise grain yields by between 20 and 30 percent.
"These government policies are very helpful for us to better position our business in China," Allen said.
zhousiyu@chinadaily.com.cn