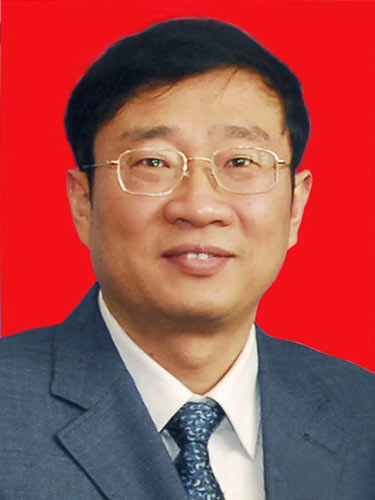 Luo Yang, general manager of Shenyang Aircraft Corp, general director of the J-15 fighter jet research team and board chairman of Aviation Industries of China Shenyang Aircraft Corp, died of a heart attack on Sunday morning in Dalian, Liaoning province, soon after the carrier-based aircraft successfully completed landing and take-off tests on the country's first aircraft carrier, the Liaoning. He was 51. [Photo/Xinhua]
In the eyes of his teachers and classmates at college, he studied hard and was always happy to lend a helping hand; his colleagues respected him because he had devoted all his life to his work; and for Chinese military fans, he was the man who enabled the country's first carrier-based fighter jet to fly high.
However, the respected Luo Yang, a senior aircraft designer, can no longer hear these words of praise.
Luo, general manager of the Shenyang Aircraft Corp, which develops and manufactures the J-15 fighter jet, died of a heart attack on Sunday morning in Dalian, Liaoning province, soon after the carrier-based aircraft successfully completed landing and take-off tests on the country's first aircraft carrier, the Liaoning. He was 51.
China Central Television broadcast footage of Luo's final hours on its prime time news program on Monday, showing he was smiling when leaving the Liaoning.
CCTV quoted company sources as saying Luo had felt unwell on the carrier but carried on with his work.
"After Luo left the Liaoning, Xie Genhua, our corporation's Party chief, went to receive him and found he did not look well. Luo then returned to the hotel and in his suite, had a sudden heart seizure," Wang Enfu, chairman of the labor union at Shenyang Aircraft Corp, told China Daily on Monday.
"A driver and a local guide rushed him to the hospital, but he could not hold on, even though the car was only a few hundred meters away from the hospital."
"The tragedy happened all of a sudden, we could never have anticipated it," said Liu Yongtao, deputy general manager of the company. "Last night, after his body was sent back to Shenyang, we arranged for the hearse to tour the factories in our company and the Shenyang Aircraft Design Institute where he worked for nearly two decades.
"Thousands of our researchers, technicians and workers crowded alongside the roads to salute Luo and bid farewell to him."
Luo made his final call to his wife on Saturday, telling her he was pleased that all test missions had been completed, according to Liu.
He said the company is now preparing for a mourning ceremony to be held on Thursday in Shenyang, capital of Liaoning province.
An LED screen on the top of the main office building in the company's compound displays a dedication to Luo. "Your name will be enshrined for your dedication to China's aviation industry, and your virtue and contribution will last forever in the eulogy from the blue sky," the screen reads.
The main page of Shenyang Aircraft Corp's website has been changed to black and white.
The company also opened a mourning hall on Monday afternoon in the SAC Hotel.
Luo studied high-altitude equipment at Beihang University and graduated with a bachelor's degree in 1982. After graduation, he joined the Shenyang Aircraft Design Institute and was gradually promoted to deputy director of the institute.
In 2002, Luo was appointed vice-chairman of the Shenyang Aircraft Corp and later became general manager and chairman.
Both the design institute and corporation belong to Aviation Industry Corp of China, the country's top aircraft manufacturer.
"He was very diligent and hard-working when he studied here," Wang Xueren, a retired teacher at Beihang University who tutored Luo's class.
Wang said although Luo usually kept a low-profile, he was an enthusiastic participant in class activities and often came up with good ideas.
Chen Shuhuo, a former classmate of Luo, remembers him fondly.
"Luo was an easy-going boy and the organizer of sports events in our class. All the classmates knew he was always ready to help and had a strong sense of responsibility," Chen said.
"He was a good student and a dedicated man," Wang Xueren said. "Most of his classmates have left the aviation industry, but he persisted."
"He turned down two opportunities to be promoted because he didn't want to leave the research-and-development field," Chen added.
"We feel extremely proud of you," reads a condolence letter sent by Wang Xueren and two other teachers.
"Every one who has contributed to, and toiled for, the nation's aircraft carrier development deserves our respect. And now more and more young people with dreams and determination are joining this glorious team. I hope this will make you feel gratified," Yang Yu, a well-known news commentator, wrote on his micro blog.
His words were echoed by netizens, who posted images of candles on their micro blogs to demonstrate their condolences and respect.
"He was too tired. Now he can finally have a rest," Wang Enfu said.
Contact the writers at liuce@chinadaily.com.cn and zhaolei@chinadaily.com.cn