Children in poor areas are benefiting from pilot projects to improve education and healthcare, as set out in the country's 10-year poverty-alleviation strategy, top officials said at a seminar on Tuesday.
A year into the State Council's China Rural Poverty Alleviation and Development Program (2011-20), which pledged that all levels of government will prioritize child development, work has already started to address key issues, particularly nutrition.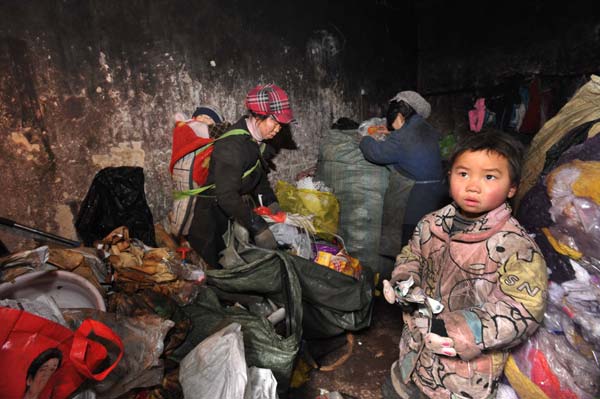 Wu Run, a 6-year-old girl from a poor family, buries herself among garbage at a residential community in Guiyang, Guizhou province, on Feb 25. Wu Dongjun / for China Daily  
According to Liu Shuwen, deputy director of international cooperation for the State Council's Poverty Alleviation Leading Group Office, authorities now provide lunch subsidies for more than 26 million rural primary and junior high school students in 680 impoverished counties.
This year also saw 100 counties start providing free nutrition supplements for children aged 6 months to 2 years, he said in a speech to delegates at an international symposium in Beijing on child poverty jointly held by the State Council, the United Nations Children's Fund and the Australian Agency for International Development.
Although gaps remain, further efforts are ongoing to address the issues, he said.
The government's 10-year blueprint set specific goals to boost child development, including ensuring all rural children have access to preschool education by 2020 and gradually improving healthcare services and financial assistance for children suffering from major diseases.
"Promoting children's development is a vital component of China's strategy to eliminate poverty in rural areas," Fan Xiaojian, director of the State Council's Poverty Alleviation Leading Group Office, said in a speech at the symposium, attended by about 200 experts and government officials from 20 countries in Asia, Africa and Latin America.
Promoting child development will allow the nation to keep poverty from passing to future generations and, in the long run, will help the nation to realize social justice and improve the quality of its population, Fan said.
China has about 122 million rural people living below the poverty line, meaning they earn less than 2,300 yuan ($369) a year.
The symposium aims to strengthen experience exchanges between China and other developing countries on child poverty alleviation and development, promote cooperation and further improve China's policies.
"China clearly has much experience that it can share with other developing countries in addressing child poverty and development," said Gillian Mellsop, UNICEF China representative. "And it has much that it can learn from others as well.
"This international symposium is a good opportunity and platform. In-depth, substantive exchanges like this help everyone, including UNICEF, keep up on the latest global advances in that vital work," she said.
Yu Jiantuo, a researcher specializing in poverty studies at the China Development Research Foundation, told China Daily that poverty during childhood can impede a person's achievements in education, health and capacity to integrate into society.
Children need special attention and protection in poverty reduction because they are more vulnerable to economic, social and environmental risks compared with adults, Yu added.
He stressed that the government should facilitate NGOs to play a bigger role in creating poverty-free childhoods for more rural children as NGOs can spread information on child development, approach innovation in pilot projects and supervise poverty projects.
Jiao Jian, an associate professor at the School of Child Development and Education at China Women's University, agreed. "Studies have shown that investment in early childhood development generates good output, but only long-term and sustainable investment will guarantee that," Jiao said.
hedan@chinadaily.com.cn