A top Western conductor brings his orchestra to China, Kelly Chung Dawson reports in New York.
Acclaimed maestro Michael Tilson Thomas will lead the San Francisco Symphony on a six-city, 10-concert tour of Asia in November, accompanied by Chinese pianist Yuja Wang as soloist.
The trip will mark the orchestra's first performance in Macao. In addition to scheduled concerts, the tour will feature a series of master classes for students at the Shanghai Conservatory of Music.
"From the viewpoint of the orchestra and myself, it's a very special mission because it's extraordinary that this phenomenon of Western music has become so popular in Asian countries," Tilson Thomas said at a press conference in San Francisco.
A delegation from the symphony first visited the Shanghai Conservatory in 1987, and that trip shaped their ongoing relationship, SFS general manager John Kieser says.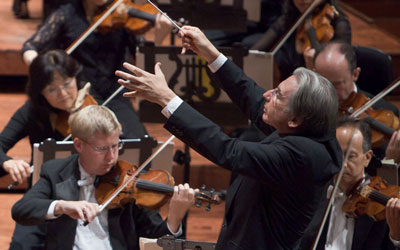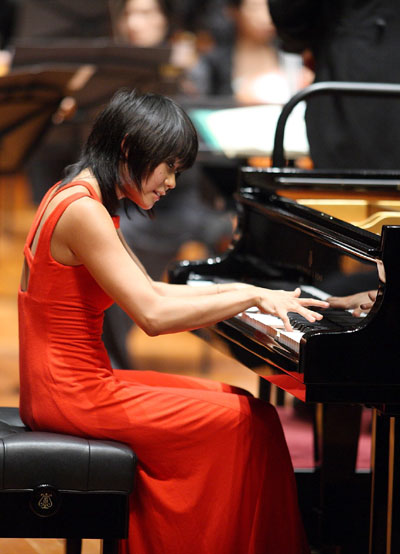 Michael Tilson Thomas (top) will lead the San Francisco Symphony on its Asian tour, featuring Chinese Yuja Wang (above), who is acclaimed as one of the most gifted pianists of her generation. Photos provided to China Daily
"The buildings during winter time didn't have much heat," he recalls. "And what we were struck by was the amount of music coming from every building. The dedication of those young people practicing both Western and Chinese instruments was amazing," he says. "For us, this was where we needed to come together and bring our passion for music to join with theirs. We are extremely happy to be going back there now."
The symphony will perform selections from Prokofiev, Rachmaninoff, Mahler, Henry Cowell and Lou Harrison. The latter selections are a conscious attempt to present California-inspired music, says Brent Assink, SFS executive director.
Harrison's music also features Asian influences that might be of interest to Chinese audiences, he says.
Tilson Thomas' own interest in Asia began while studying music at University of Southern California as an undergraduate, he says. In addition to his regular courses, he enrolled in a number of classes about Asian history and art, he says.
The conductor is particularly excited to present pianist Yuja Wang, who the New York Times has called "one of the most gifted pianists of her generation".
"From the first time I saw her, what I found so amazing about her was not just her virtuoso playing, but how well she knew … what every instrument in the orchestra was playing," he says. "And she was an amazingly sensitive accompanist. That's very unusual in a young pianist.
"I adore working with her, and boy, the orchestra sure does as well."
Western symphonies are eager to take advantage of a growing interest in classical music in China, Assink says.
"It's also really inspiring to all of us to see the incredible gifts and talents of young Asian musicians, who come here and share their great music making with us."
Of 104 members of the symphony, eight are of Chinese ethnicity, with four having been raised in China. With over 10 million Chinese students currently learning piano, Tilson Thomas expects that Chinese interest in classical music will only increase.
"I'm sure of that. Not to mention outstanding composers like (Chinese-American) Bright Sheng, for example — a very individual, sophisticated musical voice — who are contributing now."
Tilson Thomas will lead a master class in conducting at the Shanghai Conservatory, and Assink and Kieser will lecture on arts business strategies at the Conservatory's Department of Arts Management.
"We know that there are very, very close economic ties between San Francisco and the countries in Asia," he says. "We feel that as we think about the (business) models of the European orchestras and the older American orchestras, in many ways we also look in the direction of Asia for inspiration."
Cellist Amos Yang, who will lead a master class in Shanghai, says that the differences in training and education between Asian and Western musicians have lessened over time.
"Internationally, there used to be different schools of violin playing or cello playing," he says. "Now the world is so small, with the Internet and music sharing. Now I see more similarities."
Chinese symphonies have yet to tackle the American market via tours or other events, he says.
"If you look at the Chicago Symphony, one of the great orchestras, the percentage of Asian players seems to grow every year. In that sense, many of the top Chinese players are targeting the Western symphonies, simply because of the tradition that's already there.
"The top American orchestras will likely remain a bigger draw because of their natural support and base, but I don't think it's an issue of the talent level being any different."
Contact the writer at kdawson@chinadailyusa.com