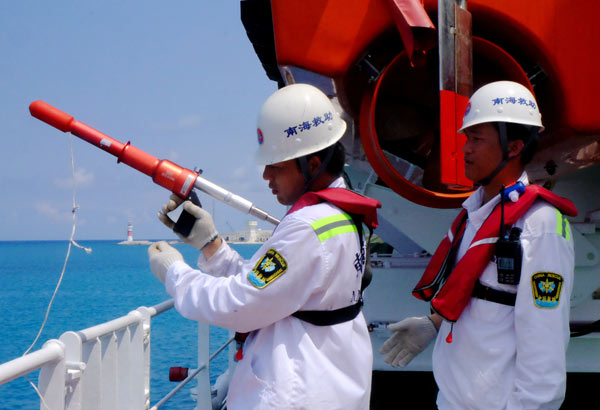 Crewmembers of theNanhaijiu 118 conduct a rescue drill on May 11
Drones and robots could be used to help ships that get into difficulties
China is considering deploying an advanced rescue ship that could carry drones and underwater robots to the Nansha Islands this year to help ships in trouble, including foreign vessels.
Chen Xingguang, political commissar of the ship Nanhaijiu 118, under the Ministry of Transport's South China Sea Rescue Bureau, told China Daily of the plans.
"Our bureau is planning a duty post in the Nansha Islands, with a ship based there. This will possibly be carried out in the second half of the year," Chen said, without specifying which island the ship will be based at.
Wang Wensong, captain of the Nanhaijiu 118, said the ship proposed for the mission might be bigger than his 3,700-ton vessel and will be equipped with advanced rescue facilities. "It might carry drones and underwater robots," Wang said.