A Nebraska, USA native heads a Chinese project to provide 'specialized care' for orphans
BEIJING: Ogallala, Nebraska USA has a population of just 3,000. It's a town few Americans may have heard of, but nonetheless, one local resident has made huge difference for over 1,000 orphans born in China.
Brent Johnson, vice president of United Family Healthcare, plays a leading role with the Beijing Chunmiao Children's Aid Foundation, registered under the Beijing Civil Affairs Bureau. The NGO focuses on "providing specialized care to abandoned infants and nurturing the growth and education of older disabled orphans."
During an exclusive interview with the China Daily, Mr. Johnson said he arrived in China in 1990 on a University of South Carolina student exchange program with Shaanxi University to study Chinese history, and he's lived in the country ever since.
"Shortly after graduating, my wife (Serena) and I were just starting to begin our lives together. On a whim, we visited an orphanage in Harbin in 1995," Johnson said. "It was my first time to visit an orphanage and it had many mentally-impaired children, while many babies were dying since they couldn't get specialized medical care."
He added, "we went ahead and asked to foster and adopt a baby. We were happy to do it, but there were many other orphans who needed special love and care, so we convinced our friends in Harbin to foster children in the US and other countries and around China to adopt children. The project kept getting bigger; people were donating money and offering to volunteer."
Eventually, Johnson and his volunteers launched the China Little Flowers Project with programs that included: intensive special care for infants; hospice care for dying children; group educational foster care; and long-term care for severely disabled children.
Big Daddy Johnson gave the China Daily a tour of the Beijing Baby Home located in the outskirts of northeast Beijing. A married couple from the island of Taiwan donated the house and remodeled it to meet the special needs of infant orphans. It holds seven bedrooms in a two-story house where 46 babies are living at the moment. A total of 64 nannies have been hired to provide round-the-clock care for them.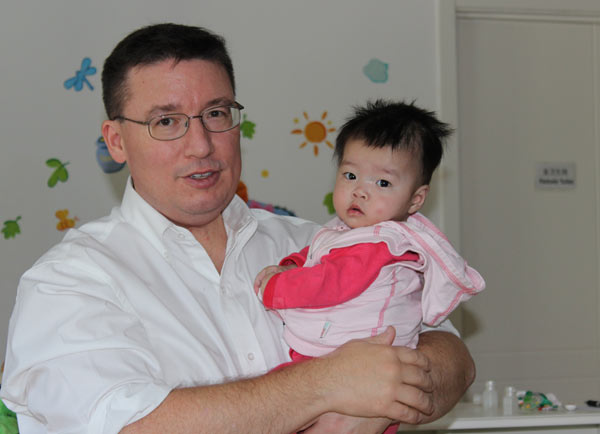 Brent Johnson, vice president of United Family Healthcare, carries a baby at the Beijing Baby Home located in the outskirts of northeast Beijing. [Photo taken by Zhou Yawei ]
Lu Jiling (Lily), the director of the Beijing Baby Home, highlighted how the project has really saved many lives. The house has high-quality facilities and equipment with good hygienic conditions.
"Many babies first arrived on the verge of death, coming either as premature infants or diagnosed with fatally-ill medical conditions," Lilly said. "Yet somehow, many miraculously survive and go on to lead more healthy and productive lives." She credits her nannies for these miracles.
The nannies work in three 8 or 9-hour daily shifts with 14-16 nannies working per shift as each is responsible for 2-3 babies to feed, bathe, clothe, play and give them motherly love. "They do everything except for hospitalized medical care," she said.
The nannies do earn a salary since they must undergo extensive training. Lilly said some donors prefer to give gifts such as toys, diapers and clothes, while cash donations can help with covering operational expenses.
"If we can pay for more nannies and buy more medical equipment, we can help even more babies," she said. "Our nannies really love children. They show mother's care and they need a good heart. If no nannies can take care and love them, there's no meaning for these children."
The director raises a valid point. The children were abandoned and they need a new mother to give them renewed hope. However, many capable volunteers have busy schedules with their jobs or family life. Therefore, few people can care for these babies on a regular and hectic schedule without expecting any financial remuneration.
Brent Johnson agrees and often engages in fundraising, as well as running an organization that complies with China law to ensure that these orphans get the best 'specialized care' possible.
He's even cared for a dozen orphans in his home, while he and his wife are the biological parents of six children. He's earned true recognition as 'Big Daddy.' Yet, he shows no signs of slowing down with a continued zest for life and his faith.
"It's my hobby. This is not complicated. I'm Catholic," said Johnson. "I care about people. There are a lot of people to help out, especially children. I love to do it."
He added, "I never set out to build an organization. We're very grassroots. We use a lot of volunteers. We focus on concrete contributions and concrete realities."
He has a grand vision to help even more children suffering from serious medical ailments in China and he wants others to join his mission. "We are a really unique project," Johnson said. "We are a platform for doing good in China and for these special children to enjoy better lives."
Brent Johnson's email is brent@chinalittleflower.org
The author's email is Mcgregor@chinadaily.com.cn