Several major music websites in China including Kugoo, Koowo, Baidu player and QQ music are planning to begin charging for music downloads by early next year.
A staff member at the record company Universal Music Group (China), who declined to disclose his name, said the move has not been confirmed, but "the change is highly possible".
"It has been discussed for many years in the industry," he said. "The lack of outstanding music in recent years is partly due to free downloads from the Internet, which cause huge losses to the recording industry.
"Many music producers hesitate to invest in new music projects because their interests cannot be protected. The government sector, music providers and operators are all seeking a better development mode for the industry."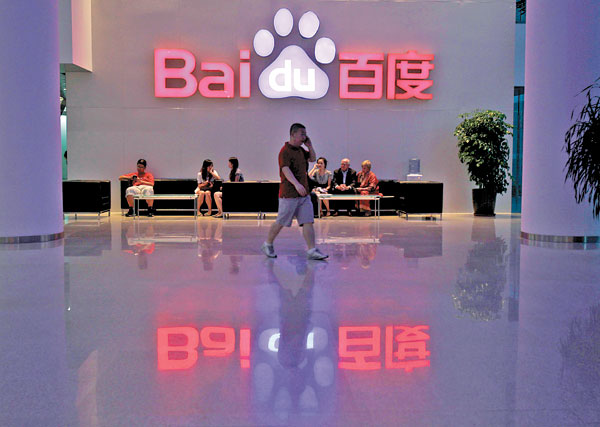 Chinese music websites including Baidu Player are reportedly planning to begin charging for music by early next year. Lu Jianshe / for China Daily
The news triggered a wave of vehement discussion on the Internet.
Most online comments were negative, with many saying they believe free content and sharing are part of the Internet's development.
Some said such a decision would help music websites and companies gain a monopoly.
Yet some voiced support if the price is reasonable.
"It is not a bad thing. A song contains efforts of invention and creation, so it is acceptable to pay a reasonable price for listening," said one mico-blogger. "It would also help increase public awareness of copyright protection."
A post under the online name Tupodi said "charging fees would be a huge encouragement to creative singers and helpful to their development".
Chinese media reported that sources close to the issue said music websites will cooperate with 15 large international record companies to provide monthly subscriptions for music download.
The reports said users will pay 1 yuan ($0.16) to download a song or 20 yuan for unlimited downloads for a month.
"We will provide several levels of fees according to different demands and economic capabilities of users," said a senior manager at QQ music.
"Music that is less popular or does not have high qualities is still free for download," said the manager.
Industry insiders had mixed reactions to the move.
Famed songwriter Xiao Ke said he supports charging for downloads, but thinks fees should be paid by music websites instead of consumers because websites sell advertising according to the number user mouse clicks, many of them from downloading free music.
Lu Zhongqiang, general manager of 13-month Recording, said "it is difficult to see the prospect, but there is hope as long as the rules are made".
Zhang Ping, an intellectual property professor at Peking University, said that fees should be under the supervision of authorities to avoid an industry monopoly.
haonan@chinadaily.com.cn