Hutong symbolize Beijing of the past and reveal more than meets the unitiated eye
As China's urbanization drive gathered steam, most hutong (narrow alleys encircling courtyard houses) in Beijing made way for skyscrapers. Some of those that survived have developed into tourist spots or hangouts for locals and expatriates alike. Only a few "normal" hutong have fought to survive the vagaries of the modern times.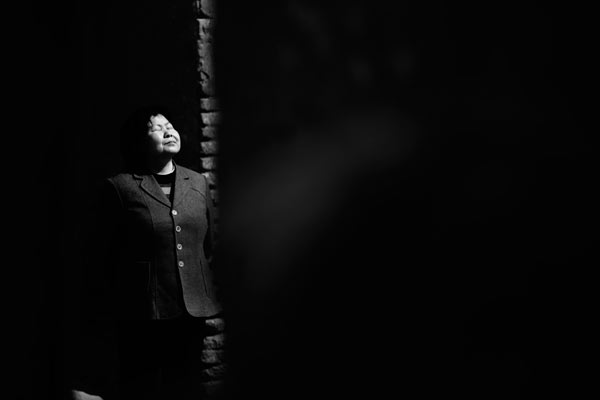 A ray of sunshine pierces through high-rises and trees to illuminate Qingyun Hutong, or Cloud Hutong, in Beijing on March 28, 2011. [Photo by An Lingjun / For China Daily]
First built in the 13th century, Beijing's hutong have evolved over hundreds of years. Most of them have been built on an east-to-west axis with a maximum width of 9 meters.
Since hutong separate courtyard houses from each other, they shelter almost all aspects of life.
But the names of the hutong are what make them unique. The name describes the characteristics of the hutong. For example Kuanjie Hutong, means a hutong with wide streets. Or take Yangrou Hutong, which is about 600 years old. Yang rou means mutton. The area was originally a trading market for cattle, which later became a market for mutton sellers during the Ming Dynasty (1368-1644).
Walking through hutong, you are removed from the hustle and bustle of the modern city that is Beijing today. For many Beijingers, hutong bring back fond memories of childhood.
Southern Beijing boasts of a number of famous hutong. They used to be the main business zone of old Beijing. Many time-honored Chinese brands in herbal medicine, clothing and restaurants started business in the hutong. And some of them still operate from these old alleys, attracting countless visitors from home and abroad.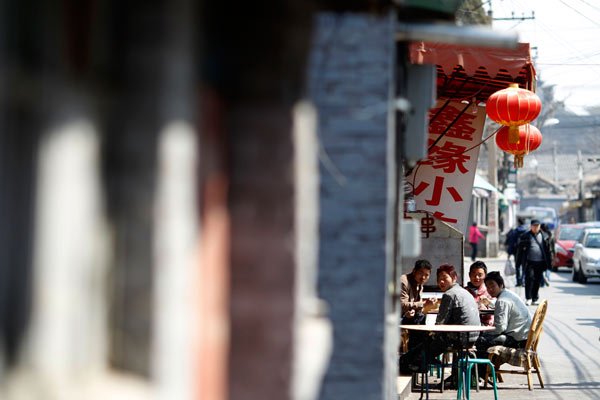 This restaurant in a hutong has all the characteristics and flavors associated with hutong in Beijing on March 28, 2011. [Photo by An Lingjun / For China Daily]
Southeast Beijing also has some well-known hutong. This area was home to businessmen, intellectuals and officials in the late Qing Dynasty (1644-1911). Service industries prospered here about 100 years ago, and each hutong here is comparable to a museum. Temples, churches, theatres, antique shops, celebrity residences and old markets of artifacts make this area a cultural center. Every inch of the hutong has hundreds of years of history, making them much more than just lanes. They are important marks of the changes in Beijing.
Even now, many hutong residents maintain their old lifestyle and habits. The life in the hutong is different from that in other areas of modern Beijing. Modern cities make us feel helplessly isolated and stressed. Concrete forests of skyscrapers rob cities of their cultural and historical identities.
But the hutong offer us a respite and remind us where the city's roots are.
China Daily