TIANJIN -- Six people, including five German nationals and a Chinese driver, died and 14 others were injured after a tourist bus rear-ended a container truck and caught fire Monday near Beijing, police said.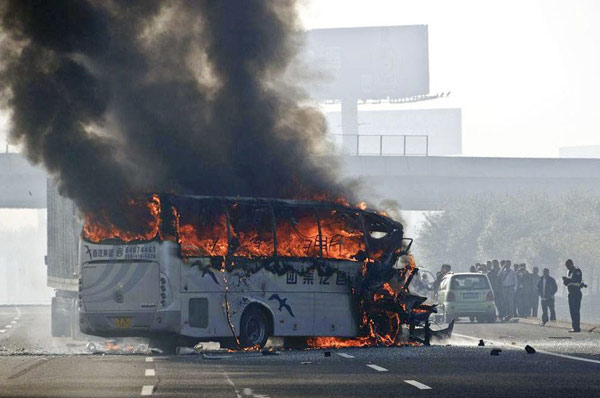 A toursit bus is enveloped in flame after a rear-ending a container truck on a expressway near Beijing on Oct 1, 2012. [Photo/163.com]
The bus, which had a license plate from Beijing, was carrying a group of German tourists and was driving on an expressway linking the capital with the neighboring port city of Tianjin when the accident happened at around 8:30 am, said police authorities in Tianjin.
Police said the tour group was arranged by the Beijing-based China Youth Travel Service.
The names of the dead are yet to be available.
Of the 14 people injured, 12 were German and two were Chinese, said a doctor with the People's Hospital in Wuqing District of Tianjin, who only gave his family name as Zhang.
He said 11 of the patients were being treated at the hospital, including nine German tourists and the two Chinese individuals. "Their conditions are stable. Most of them suffered burns, fractures or bruises. Three of them are under intensive care."
Three more serious cases, all German nationals, have been transferred to Tianjin Municipal People's Hospital and the First Hospital in the city center for treatment, Zhang said.
German Ambassador to China Michael Schaefer arrived in Tianjin Monday afternoon to visit the injured tourists.
The tourist group arrived in Beijing at around 6 am and they were traveling to Tianjin, where they were scheduled to visit the First Hospital affiliated to Tianjin University of Traditional Chinese Medicine in the afternoon, said Fu Dechao, the university's German interpreter who was to accompany the group.
Fu said he called the tour guide at 8:30 am to check on their location, only to find out there was a problem. "So I rushed to the hospital to interpret for the patients and doctors," he said.
Fu said most of the injured tourists were "middle-aged" and that "Most of them were in stable condition, but apparently scared."
Photographs on the web, taken by witnesses, show the entire vehicle in flames and surrounded by dark smoke.
The cause of the accident is under investigation.
Monday marks China's National Day.
The country's roads are full of travelers as Chinese people are enjoying an eight-day "Golden Week" holiday that bridges Mid-Autumn Festival on September 30 and the National Day holiday from October 1 to October 7.
The Ministry of Public Security announced late Monday that it had dispatched a working team to Tianjin to oversee the investigation.
The ministry also issued a notice to urge authorities concerned across the country to strengthen road patrol and go all out to prevent major accidents and ensure people's safety during the holiday.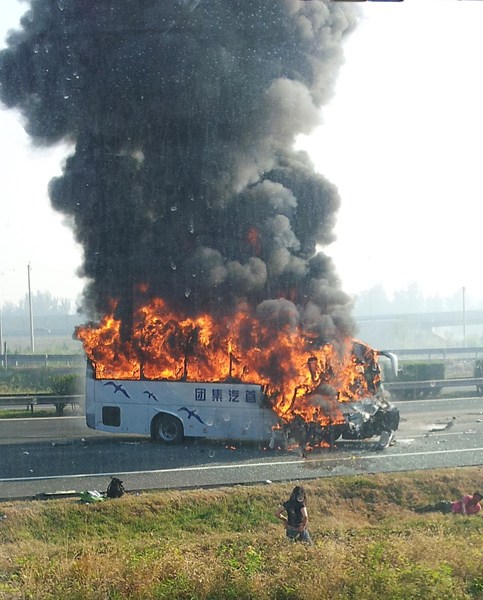 A toursit bus isenvelopedin flame after a rear-ending a container truck on a expressway near Beijing on Oct 1, 2012. [Photo from weibo.com/lifecuc]