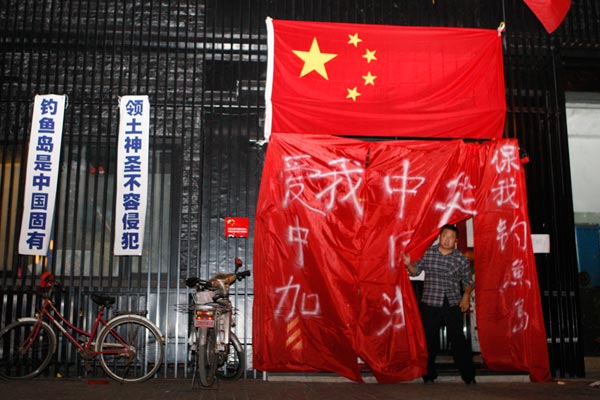 The national flag and patriotic slogans cover the outside of a Japanese restaurant in Chaoyang, Beijing. Many Japanese businesses in China closed their doors amid protests against Japan. Zhu Xingxin / China Daily
Many Japanese businesses will shut operations on Tuesday, the anniversary of Japan's invasion of Northeast China in 1931, in a precautionary move ahead of possible protests against Tokyo's recent move to "buy" China's Diaoyu Islands.
The worst outbreak of anti-Japan sentiment in decades was seen in protests over the weekend.
Economic and trade ties between the two largest Asian economies are under threat.
Foreign Ministry spokesman Hong Lei said in a daily news briefing that China will protect Japanese firms and citizens and called for protesters to obey the law.
Hong blamed Japan's illegal purchase of the islands for the "gravely destructive consequences" and said it is Japan that should bear responsibility.
The government has called for the Chinese people to express their demands in a "legal and rational way".
Some Japanese companies closed temporarily, as a matter of prudence.
Toyota and Honda both reported that arsonists had badly damaged their stores in the eastern port city of Qingdao over the weekend.
However, Toyota said its factories and offices were operating as normal on Monday and that it had not ordered its Japanese employees in China to stay home. Honda has reportedly suspended production in China for two days, starting on Tuesday.
Mazda will halt production from Tuesday in its Nanjing factory, which it jointly operates with Chongqing Changan Automobile Co and Ford, for four days.
Canon announced on Monday it will close its three Chinese factories temporarily. The company's China headquarters told China Daily that the factories are located in Zhongshan and Zhuhai, Guangdong province, and in Suzhou, Jiangsu province.
The factories employ more than 20,000 Chinese workers, and they will "take two days off, with pay, on Sept 17 and Sept 18", according to Canon. The factories mainly produce digital cameras and printers.
On the advice of police, Canon closed its stores and covered logos on Monday, the company said.
Japan's Fast Retailing said it will close 19 Uniqlo outlets in China on Tuesday, up from seven on Monday. One store will be operating on shortened hours on Tuesday, against nine on Monday.
Japan's leading general retailer, Seven & I Holdings, will close 13 Ito Yokado supermarkets and 198 "7-Eleven" convenience stores in China, a company spokesman said on Monday.
The company had already closed its 40 stores in Chengdu, capital city of Sichuan province, as of Monday after operations were disrupted.
In Beijing, some of the convenience stores concealed their logo by hanging up banners of patriotic Chinese slogans.
Cheng Ning, director of public affairs of Beijing Huatang Ito Yokado Ltd, told China Daily eight stores in Beijing will halt operations before resuming business on Sept 19, on orders from their headquarters in Japan to ensure the safety of customers, employees and property in China.
Some of the Ito Yokado stores in Beijing have already adopted a practice of closing two hours ahead of published schedules.
Washington cannot shake off its responsibility for sowing the seeds of conflict, since provocations by its allies against China have been emboldened by the US "Pivot to Asia" policy, Xinhua News Agency said in a commentary.
"The success of Panetta's visit will be judged by how he will reassure Beijing that Washington is willing to do more things conducive to regional peace and stability, which are now threatened by some US allies," it said.
Panetta's visit, following Liang's trip to the US in May, is also a part of efforts to push military relations forward since they resumed 18 months ago after a break over US arms sales to Taiwan, analysts said.
Military relations will be a key aspect of the visit, but obstacles remain.
Ni Feng, a researcher of American Studies at the Chinese Academy of Social Sciences, said that these include US arms sales to Taiwan, military surveillance close to China's coast and discriminatory regulations prohibiting certain China-US military exchanges.
Both countries are looking for ways to deepen China-US military relations, but ensuring smoother communication is a more practical option, Ni said.
"Yet whether these talks turn out to be fruitful remains to be seen." Yin Zhuo, a Beijing-based military specialist, said Panetta will also touch upon international issues including the denuclearization of Korean Peninsular, the Iranian nuclear plan and Syria.
Contact the writers at zhaoshengnan@chinadaily.com.cn and zhangyunbi@chinadaily.com.cn