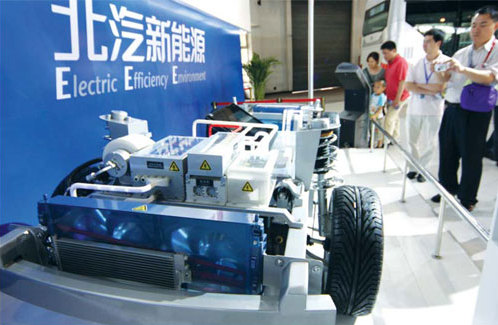 Chassis and electric drive system by BAIC at an expo in Beijing, part of its push to develop wholly owned brands. Wu Changqing / For China Daily
BAIC Group, the Chinese partner of Daimler AG and Hyundai Motor Corp, plans to list its passenger vehicle arm BAIC Motor Co Ltd on the Hong Kong Stock Exchange next year, according to its president Xu Heyi.
The Beijing-based manufacturer, China's fifth-largest auto group by sales, expects to raise 10 billion yuan in an initial public offering, funds that will be used to further develop its own-brand passenger vehicles, Xu said at the Summer Davos Forum in Tianjin last week.
BAIC Motor's assets include the parent company's 50 percent stake in a joint venture with Hyundai and the group's own-brand business unit, an automotive research institute and its new energy and powertrain units.
It remains uncertain whether the group will include its 50 percent stake in its partnership with Daimler, which makes Mercedes-Benz cars in China, in the planned IPO.
BAIC Motor was established in 2010 for the special purpose of a stock listing. BAIC Group has a 51 percent stake in the joint stock subsidy, with Shougang Group, one of China's top steel makers, the second-biggest shareholder with a 18.31 percent stake.
In addition to its passenger vehicle arms, BAIC Group also has a listed company, Beiqi Foton, that makes commercial vehicles.
Last year the group sold 1.5 million vehicles, a number it projects will reach 1.8 million this year.
China's top two automotive groups - SAIC Motor and Dongfeng Motor Corp - had IPOs in 2005 and 2006. Another major domestic automaker, Guangzhou Automobile Group Co Ltd, was listed in Hong Kong in 2010 and in Shanghai earlier this year. FAW Group is now preparing to go public.
Like most of its domestic counterparts, BAIC needs to go public for capital since its own brand-business is still in the initial stage of development and needs massive funding, analysts said.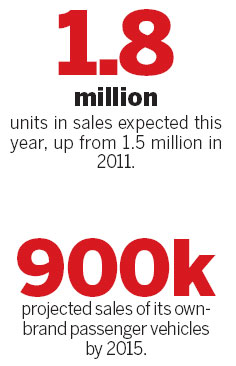 The automaker launched its first self-developed passenger vehicle, the Weiwang minivan, last year and its first own-brand car, the Beijing E Series subcompact model based on the chassis of Daimler's Smart ForFour, in March this year.
Its first mid-sized sedan, based on the Saab technologies that the group acquired in 2009, is expected to hit the market at the end of the year.
The company previously said that it plans to roll out more than 20 new models and variants based on Saab technologies in the next five years and aims to sell up to 900,000 of its own-brand passenger vehicles a year by 2015.
The automaker now is making minivans and small cars in its plants in Hunan province. It is also preparing new production facilities in Chongqing, Guangzhou and Beijing for its own-brand cars.
But as a latecomer that just began producing its own cars, BAIC now faces a slowing market where domestic brands have been hit hardest.
According to the China Association of Automobile Manufacturers, passenger vehicle sales by domestic carmakers totaled 4 million units in the first eight months this year, edging up only 2 percent from a year earlier. Overall passenger vehicle sales in China rose 8 percent in the same period.
The market share of domestic passenger vehicles in the first eight months this year declined by 2.4 percentage points to about 40.3 percent, according to the association. The decline has been even steeper for home-brand sedans, whose market share has fallen 3 percentage points this year to 26.4 percent.
hantianyang@chinadaily.com.cn
(China Daily 09/17/2012 page18)