The boss of an event-organizing company in Central China has been detained after a riot at a concert.
Fans threw bottles and chairs and damaged sound equipment on Wednesday after being angered by a long waiting time and the amount of embedded advertising in the program.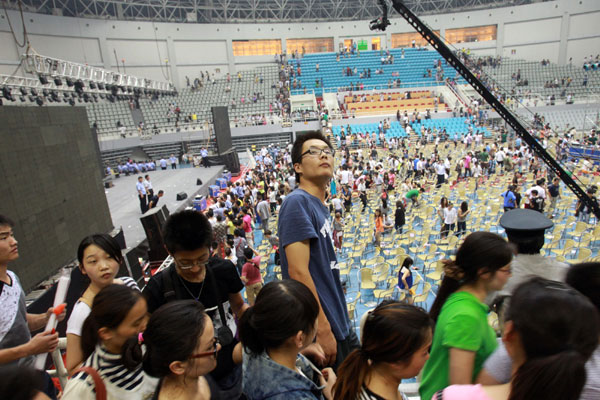 Dissatisfied with the performance and the many advertisements during a concert, the audience leaves halfway through on Wednesday night in Luoyang, Henan province. Provided to China Daily
Posters for the concert, Love Tidal Wave, in Luoyang, Henan province, promised the appearance of singer Jeff Chang from Taiwan and the Malaysian starlet Fish Leong.
Promo material printed by the organizer, Yihan Cultural Communications, said the acts would take to the stage at 8 pm.
After about 45 minutes of watching unidentified singers and dancers, the audience began to grow restless, Dahe Daily reported.
Calm was restored when Leong made an appearance at 9 pm and sang three songs.
But the crowd turned ugly when the unidentified singers and dancers returned to the stage after 30 minutes and performed "advertising opera", as some fans dubbed it.
Audience members started throwing soft-drink bottles and glow sticks, and chanted slogans calling for organizers to refund their money. Some people even rushed on stage and destroyed equipment, Dahe Daily reported.
After attempts by staff to ease the tension, Chang made a brief appearance at 10:05 pm but was forced off the stage when the audience pelted him with chairs.
"The organizers said in the advertisement that it is a concert by Jeff Chang and Fish Leong, but it is obviously just a commercial performance with lots of street singers and embedded advertisements," said Shang Zhe, who paid 1,699 yuan ($270) for a VIP ticket.
A manager for Zhengzhou Tiancan Star Cultural Communications, the co-organizer that was in charge of running the event, said he had warned about a possible riot.
"We had known several days beforehand that Jeff Chang would be late for the concert," said the manager, who gave his name as Wang. "I told Yihan the audience might protest, but my warning was ignored."
Wang said three people in his company are cooperating with the police investigation.
Xu Zheng, the general manager of Yihan, has been detained while authorities investigate allegations of false advertising.
An official from the Luoyang public security bureau said on Thursday that police have told the organizers to refund the tickets.
Jeff Chang and Fish Leong were not injured in the incident, nor was anyone in the audience, he said.
Contact the writer at anbaijie@chinadaily.com.cn