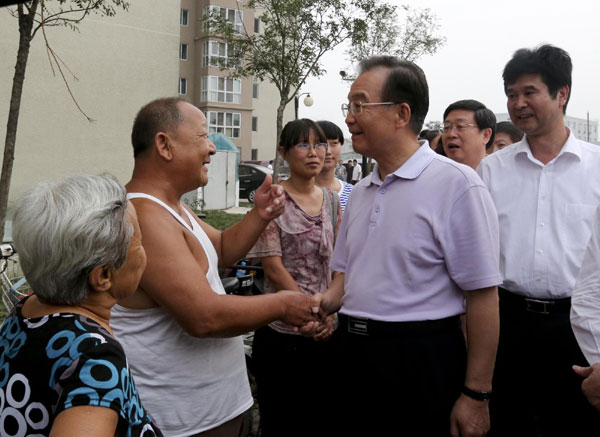 Chinese Premier Wen Jiabao talks with residents of Qiuyijiayuan, an affordable housing community, in Tianjin, North China, Aug 31, 2012. Wen inspected the construction of affordable housing in the city on Friday. [Photo/Xinhua]
TIANJIN - Chinese Premier Wen Jiabao has reiterated the country still needs to resolutely curb speculative property investment as controls on the real estate sector are still in a "critical period."
Wen made the remarks while making an inspection tour of affordable housing projects in the city of Tianjin in north China on Friday.
He pointed out that the government's controls over skyrocketing housing prices have been in place for more than two years, and that the excessive price rises have been generally curbed.
"But the controls over the real estate market are still in a critical period," he warned.
He said that increasing the effective supplies of homes to the market will be more important to consolidate the previous achievements in stabilizing housing prices.
China has tightened its curbs on the property sector since 2010 in an effort to bring skyrocketing home prices back to a reasonable level. The government has restricted home purchases in several cities while requiring higher down payments and introducing property taxes.
Official data showed that 50 cities, up from 25 in June, out of a statistical pool of 70 major cities recorded higher new home prices from a month earlier in July, according to the National Bureau of Statistics.
Wen said that smooth progress in the affordable housing projects will provide important support in stabilizing property prices and consolidating the government's efforts to tame overly high home prices.
The premier said the country's affordable housing should not be evaluated solely on the number of buildings completed or in construction, but also on whether the homes are delivered to the market in a timely manner to solve people's living problems.
The premier said the nation had started work on more than 21 million affordable homes from 2009 to 2011, with almost half of them having been built.
The government vowed to start construction of more than 7 million low-income housing units this year as part of its plan to build 36 million such units between 2011 and 2015.
Wen also called on developers of affordable housing projects to prioritize the quality of these homes designed for the nation's middle and low-income population.
Wen stressed that the low-income homes should distributed and managed in a transparent and open way for fairness.