Shanghai hopes scholarship system will boost degree program numbers
Shanghai is encouraging foreign students to study at local universities with a package that includes scholarships and language-training programs.
Municipal officials hope the number of foreign students will increase to 70,000, a 45 percent gain, by 2015.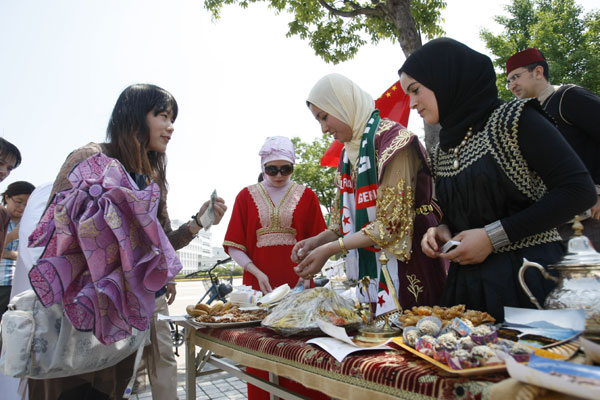 Overseas students show their locally flavored food at an international cultural festival in Shanghai University. Shi Peiqi / for China Daily
The municipality will establish a comprehensive scholarship system to encourage outstanding students to study in the city, according to a Shanghai Municipal Education Commission development plan for the 2011-15 period. The plan was unveiled over the weekend. According to the plan, the city will increase the number of government-funded scholarships and add a full scholarship for undergraduates.
The number of international students in the city has gone up in recent years. In 2011, about 47,700 overseas students were studying in Shanghai, but only a third of them were in long-term degree programs. The plan's goal is to have at least 70 percent of foreign students studying in long-term degree programs.
"We hope that a greater number of outstanding students will come to Shanghai, and take long-term and degree programs in the city," said Yang Weiren, an official of International Exchange and Cooperation Department of the Shanghai Municipal Education Commission.
Meanwhile, Shanghai is also encouraging universities, enterprises and other social bodies to establish scholarships and funds for deserving foreign students.
Last month, the Tohee International Student Village, one of the city's biggest international student-dorm communities, joined some universities to launch the Tohee International Students Service Fund. The fund will cover apartment rentals for students during their four years of study. Beneficiaries will mainly be those who excel academically and are from needy families.
The first students to get city government scholarships to study in Fudan University were three Nepalese students.
The government scholarship will cover their tuition, while the Tohee fund will grant their accommodation subsidies, totaling 200,000 yuan ($31,500), for their four years of study.
"Shanghai is an international metropolis. The cost of living is very high," said Bikesh Adhikari, one of the students who received the subsidy. "I was worried that I could not finish the four-year study due to the high cost of living in Shanghai.
"The accommodation subsidy removes my concern. And I can focus my attention on my studies," he said.
Fudan University has more than 4,000 foreign students from 118 countries and regions. Each year, the university grants about 1.5 million yuan to its foreign students.
"Those who apply for higher degree study in the university and are from top universities overseas, especially those who are majoring in science and engineering, are extremely encouraged," said Zhang Yi, deputy director of International Students Office of Fudan University.
The city is also encouraging local universities to offer more high-quality summer-school courses, lectures and international exchange programs to attract foreign students.
This year, Shanghai Jiao Tong University invited more than 80 overseas professors and scholars to give lectures during its four-week summer courses, which were added this year.
"It's very exciting, and I like Shanghai very much," said Connor Ryan, a student from Wittenberg University in Ohio. Ryan had just completed Fudan University's international summer session, which attracted about 100 students from more than 10 countries.
"Before I came to Shanghai, I had no idea about the country. And this is my first time to come to a non-English-speaking country," Ryan said.
"I learned some Chinese in my country. Here, I communicated with the local people and talked a lot in Chinese," he said.
Among the courses that Fudan University arranged for the students were Chinese history and culture, social science, politics, economics and management.
In a bid to help foreign students adapt to studying and living in Shanghai, the city will establish a preparatory school that will teach Chinese-language and computer skills. The first batch of 60 students will start their Chinese study in September.
According to the plan, the city will establish a series of foreign-student service centers, which can provide one-stop service, such as accommodation, Chinese learning and tours.
In addition, the city will establish 10 Chinese culture bases for foreign students to better understand the country and its history and culture.
Contact the writer at wanghongyi@chinadaily.com.cn