BEIJING - A free healthcare program will cover 22,000 children living in one of China's poorest counties with a premium of 200,000 yuan ($31,700). The children will be covered for critical diseases, a charity program announced on July 18 in Beijing.
The Chinese Rural Kids Care (CRKC) chose children aged between 6 and 16 in Hefeng county, central China's Hubei province, as its first trial group. The program was established by a group of 46 initiators and seven media organizations under the China Charities Aid Foundation for Children.
Deng Fei, the program's founding father, said the CRKC was a continuation of the Free Lunch Program he co-founded last year, which calls for the public to donate 3 yuan ($0.4) each day to provide poor rural children with one basic but nutritious school lunch.
"While the Free Lunch Program can be seen as filling a 'gap' (in rural children's life), the Chinese Rural Kids Care is to save their lives," Deng said, who realized the inadequacy of China's rural healthcare while building canteens for the Free Lunch Program.
Deng said although the government introduced the New Rural Cooperative Medical Care System in 2003, many rural families still can not afford sending their sick children to hospitals and receive prompt treatment.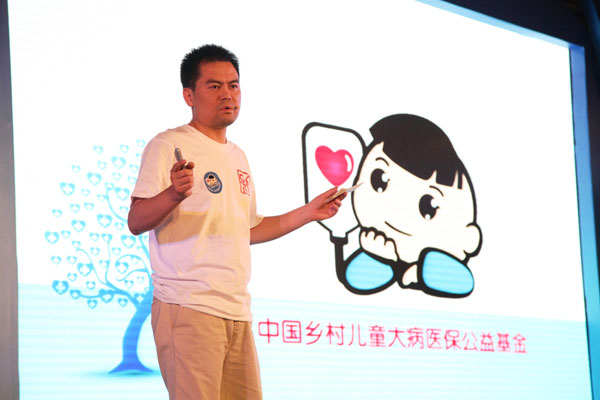 Deng Fei speaks to the media about the Chinese Rural Kids Care on July 18. [Photo by Feng Xin/chinadaily.com.cn]
According to a proposal submitted to the National People's Congress in February 2011, among the rural children who died of diseases, more than half of them received little treatment or outpatient treatment only. Once they contract critical diseases, 54 percent die, nine times more likely than urban children.
Program spokesman Zhang Qingfeng said the CRCK aims to tackle two major problems rural children face when they are covered by the public healthcare system.
The first problem is the low premium offered by public healthcare. Taking Hefeng county as an example, if a child suffers from a critical disease, his or her family will only be reimbursed up to around 70,000 yuan ($11,100), while its actual medical expenses are usually much higher. Not to mention, the family has to pay for all the costs out of pocket up front, Zhang said.
If families seek medical resources for their children outside their home regions, which is often the case, the reimbursement will be significantly reduced from 45 to 0 percent. This presents the second challenge to rural children and their families, Zhang said.
The CRKC, however, raises the premium to 200,000 yuan ($31,700). This means if a Hefeng family spent 286,000 yuan ($45,400) on treating its sick child, the public healthcare will cover up to 70,000 yuan ($11,100), and the CRKC will cover 200,000 yuan ($31,700) additionally. This leaves the family with only 16,000 yuan ($2,500) out of pocket. Plus, the family does not have to pay all the medical costs out of pocket before being reimbursed but receives instant reimbursement in installments from its insurance company. This applies to cross-regional medical treatment as well, according to the program's founders.
"The CRKC solved a problem the government long wanted to solve and parents suffered from," said Yang Anwen, Communist Party secretary of Hefeng county. He said the first beneficiary, a child with aplastic anemia, already received his the installment of reimbursements on July 17. The child's parents had decided to give up treatment but regained hope from the program.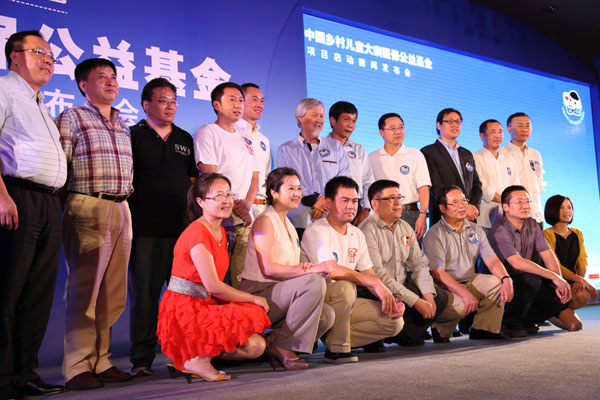 The Chinese Rural Kids Care is established by a group of 46 initiators and seven media organizations under the China Charities Aid Foundation for Children. [Photo by Feng Xin/chinadaily.com.cn]
When asking for the child's information, Zhang said they will not release any names or images of the children and their families who benefit from the program to the public, nor will they inform the children that they are helped. "We want to protect their privacy and dignity," Zhang said.
Apart from helping children in Hefeng county, Deng and his partners hope to spread the program nationwide and eventually push government action. He said instead of relying on charities and philanthropists, the government can consider purchasing commercial healthcare programs for rural children with a part of its revenue, and the CRKC can provide free professional actuarial analysis for the government.
"Through CRKC, I hope we not only create a charity program but also establish a working model for the government to implement," Deng said.