Concerns about harmful emissions have resulted in construction being halted at a number of incineration plants around the country. Now, experts are claiming the country will drown under a deluge of garbage if the situation doesn't change soon. Zheng Jinran reports.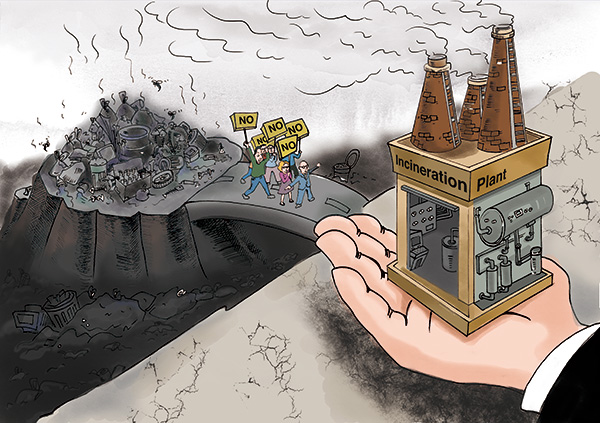 JIANG JIAHONG/ for CHINA DAILY
China is facing a mountain of unprocessed household waste after public protests disrupted the construction of incineration facilities, and as landfill sites reach capacity, according to experts.
In 2014, 179 million metric tons of household waste was collected nationwide, according to data provided by the National Bureau of Statistics. Meanwhile, statements released by the central government say the volume of waste is expected to grow at between 7 and 10 percent every year in large cities, such as Beijing.
Public protests
On April 21, the government of Haiyan county in the eastern province of Zhejiang, announced that it was cancelling construction of a new waste incineration project in response to two days of public protests. However, it also released a statement calling for public support, saying the new plant was urgently needed to prevent a buildup of waste that could result in widespread pollution.
Residents of the county, which is administered by Hangzhou city, voiced concerns about the potential health risks from emissions via online forums and through direct representations to the government. Some protesters even blocked roads and attacked and injured a number of police officers and government officials.
Most of Haiyan's household waste used to be processed at incineration plants in other counties, but late last year the plants were so overloaded that the operators refused to burn waste from outside their own area, leaving Haiyan's landfill sites close to full.
"Without new facilities to deal with the waste, the county will soon see severe pollution from a flood of waste," the government's statement said.
The problem isn't just confined to Haiyan, though. Several areas of the country-including Beijing and the provinces of Guangdong and Hainan-have seen protests against new incineration plants, despite the ever-rising volume of waste as a result of urban expansion.
At present, the three main methods of disposing of household waste are landfill sites, incineration and composting.
However, experts say it's not feasible to bury such enormous amounts of waste in landfills-the most widely used method-partly because most of them are nearly full and partly because of a lack of land to build more.
Incineration has become the most popular treatment because the plants require less land than waste-burial sites, the materials are easy to deal with once burned and the incineration process generates heat and power.
Those advantages saw the number of incineration plants rise to 188 in 2014 from 104 in 2010, according to government data. Meanwhile, a survey conducted by the Power Generation Branch of the China Association of Circular Economy, an industry association in Beijing, estimated that the number of facilities has doubled in the past six years, reaching 225 by May.