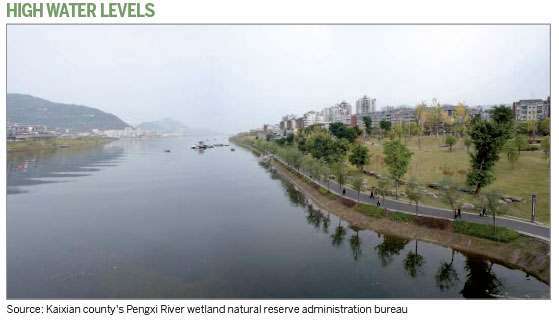 Scientists have successfully developed a four-phase recovery program for river ecosystems that have been altered by the construction of the Three Gorges Dam, report Luo Wangshu in Kaixian county and Tan Yingzi in Chongqing.
Construction of the Three Gorges Dam, the world's largest hydroelectric project, has brought power to millions of residents and eased the passage of water traffic along the Yangtze River. The downside is that the dam has also affected the water levels and ecosystems of many of the river's main tributaries, resulting in pollution and damage to the environment.
Now, the banks of the Pengxi River, a tributary of the upper reaches of the Yangtze River, are steadily being planted with nonnative trees in an attempt to arrest the decline of the environment and reverse the process.
The waterway is located in Kaixian county in southwestern China's Chongqing municipality, an important section of the Three Gorges Reservoir. Trees have been planted, some above the waterline and some below, in what appears to be a random fashion, but is actually in accordance with a specific model designed to restore the ecosystem.
Depending on the season, the depth of the water in the areas around the Three Gorges Reservoir can fluctuate by as much as 30 meters. The level of the Pengxi River rose after the dam was completed in 2009, and now reaches its highest point, 175 meters above sea level, during winter, and its lowest ebb, 145 meters above sea level, in summer.
"The fluctuations in the water level have changed the environment," said Zeng Bo, a professor of ecology at Southwest University in Chongqing.
"Before the Three Gorges Dam Project, many of the plants along the riverbank were always above the waterline, but now they are submerged whenever the water rises," he said.
"The differing water levels have killed many plants. Native plants were suddenly unsuited to the new environment and many died, resulting in a number of environmental problems," he said.
Declining plant diversity
Those problems include a decline in the number and diversity of native plants and animals, soil erosion along the banks and dead plants that produce nitrous oxide, polluting both the water and the air.
Experts and policymakers have now initiated a raft of restoration projects, and their efforts have official backing at the highest level.
Speaking at a forum earlier this year, President Xi Jinping said the restoration of the Yangtze River ecosystem should be made "an overwhelming priority", and urged experts to "focus on extensive protection, and not engage in large-scale development".
Xi placed green development high on the government's agenda, and called on workers to "protect the environment like we protect our own eyes, and care for the environment in the same way we care for our own lives".
However, even before Xi's call to arms, local people had started work to restore the riverside environment.