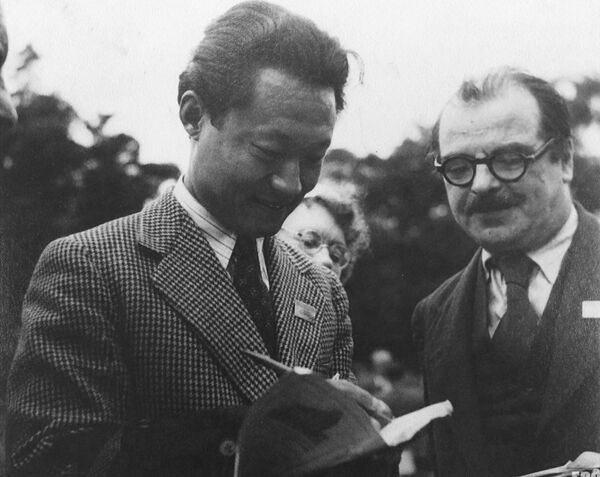 Ye Junjian signs autographs for readers in Europe in the 1940s. Photo Provided to China Daily
During World War II, a young Chinese scholar was selected to undertake a lecture tour of Britain, where he traveled the length and breadth of the country delivering speeches to packed houses, detailing the horrors of Japan's occupation of China and urging the British people to stand steadfast in the fight against Nazi Germany, as Peng Yining reports from London.
As China fought for its life during the Japanese occupation and World War II, Ye Junjian, a Chinese professor of English literature, joined the fray, but his battleground was Europe, not China, and his weapon was the spoken word, not the gun.
From horror stories to fairy tales
During his four years at Cambridge, Ye Junjian developed an extensive network of relationships with the top British intellectuals of the day, including economist John Maynard Keynes and the writers Leonard Woolf and Stephen Spender.
Ye also became close to the playwright and polemicist J. B. Priestly, who often invited him to spend weekends at his house on the Isle of Wight and referred to him as "a Chinese member of my family".
Ye was keen to learn European languages, so during his vacations, he toured Western Europe and learned to speak and read Spanish, French, Italian, German, Portuguese, Swedish, Norwegian and Danish.
During his breaks in Scandinavia, Ye fell in love with the works of Hans Christian Andersen, so he learned Danish and translated Andersen's fairy tales in a mammoth 16-volume series.
He spent 40 years continually re-introducing, re-translating and commenting on Andersen and his stories in China. Generations of Chinese children grew up reading Ye's translations of Andersen's work, although he sinicized the stories a little, such as changing The Little Mermaid to The Daughter of the Sea in Chinese.
In 1988, Ye was knighted by the Danish monarchy, which conferred the Order of the Dennebrog on him for his translations of Andersen's fairy tales.
In 1944, Yeh Chun Chan, or Ye Junjian in pinyin, was invited by the British Ministry of Information to visit the United Kingdom and speak about China's war to help the British government's mobilization campaign in preparation for the Allied landings in Normandy.
Over the course of a year, with a small suitcase in hand, the Chinese scholar, born in a remote village in Central China's Hubei province in 1914, traveled to every part of the UK, staying with families or in hotels or bed and breakfast establishments, and delivered more than 600 public speeches.
This year marks the 70th anniversary of the Allied victory in World War II, and a series of memorial events have been launched, including a grand parade in Tian'anmen Square on Sept 3.
One of those events is a photographic exhibition dedicated to Ye's life and wartime work, which opened on July 20 at the University of Cambridge, where Ye researched English literature after the war. Staged in the antechapel of King's College, the exhibition is also part of the 2015 China-UK Year of Cultural Exchange.
In 1931, Ye was in high school in Shanghai when Japan invaded China's northern provinces. During the winter vacation the following year, he heard the sound of bombing and knew the Japanese were moving toward Shanghai.
"There was such thunder from the clear sky. No matter how poor and weak China was, we never thought the Japanese would forcibly occupy such a large part of Chinese territory," he wrote. "Those Japanese militarists and fascists despised the Chinese people so much."
Those reflections made him determined to fight his own, private war of words against the occupiers.