The Tibet autonomous region is famous for its elegant, colorful architecture, especially its Buddhist temples. However, some traditional handicrafts and skills are being lost as the region engages ever more closely with the modern world. Palden Nyima reports from Lhasa.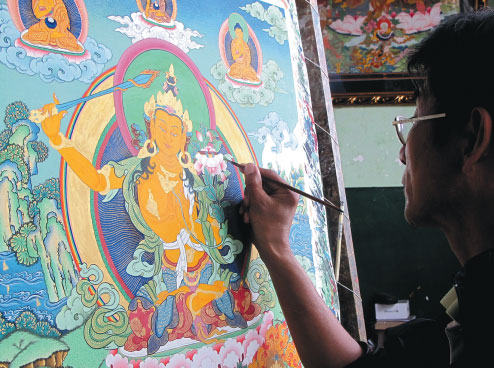 Samdrub uses traditional Tibetan mineral pigments on a thangka in his workshop. Photos by Palden Nyima / China Daily
For most people, the phrase "Tibetan art" calls to mind images of a range of handicrafts, including traditional scroll paintings, known as thangkas. However, few people are familiar with the pigments that artists in the Tibet autonomous region use to paint the thangkas.
The production of mineral pigments is an ancient art in Tibet, but it's heading for extinction at a rapid pace. "The production of mineral pigments is an interesting part of Tibetan traditional culture that was inherited by our ancestors. We want to ensure that it lasts forever," said Penpa, a thangka master and instructor in pigment production in Lhasa, the capital of Tibet.
"Our team considers the production of genuine mineral products as a way of repaying the love shown by our former masters," the 43-year-old said. "I consider the work to be a contribution to the continuation of our ancestors' valuable heritage."
While many people speak of innovation or "expanding" a heritage, Penpa simply wants to follow in his ancestors' footsteps without altering the ancient traditions.
"I don't want any breakthroughs to endanger the preservation of what our ancestors left for us. That would be enough," said Penpa, who works for Lhasa Ancient Architectural Arts Co, a 30-year-old outfit that operates one of just three pigment workshops in the region.
Most of the company's work involves the restoration and refurbishment of ancient architecture, and the production of mineral pigments is one of its core businesses.
Although some producers sell pigments that contain a mixture of mineral pigments and modern, synthetic dyes, Penpa's company only produces and sells genuine Tibetan pigments. "Real Tibetan pigments are made from mineral stones and plants. The other pigments in the Tibetan market are produced in other Chinese provinces and in India," he said.
Tibetan mineral pigments are of such high quality that they will retain their color for more than 200 years. In extreme cases, some pigments will remain pristine for as long as a millennium.
The production process for mineral pigments is far more difficult than that used to make other pigments, and as a consequence, they are much more expensive.
A variety of pigment-bearing minerals can be ground into fine powders to produce five basic colors - green, blue, red, yellow and white - which are then divided further into hues.
The pigments are all extracted from ore stones. White stones come from Rinbung county, while the other colors are found in different parts of the region, such as Nyemo county, Qamdo city, and even in the Diqing Tibetan autonomous prefecture in Yunnan province.
Penpa's colleague Samdrub said his team only uses mineral pigments, because colors in non-mineral pigments produced outside Tibet fade quickly.