Progress in two provinces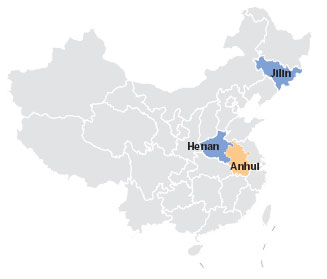 Henan province
Statistics from Henan's agriculture department show that by the end of November, the rights to some 188 hectares - 29 percent of the arable land in the province - had been transferred. The province has 65,000 farming cooperatives and more than 15,500 independent producers with large production volumes.
A recent survey of farmers conducted by the local authorities showed that the high-volume producers have played a key role in increasing grain output and stated that, under the same conditions and using the same technology, the production cost per mu (0.067 hectares) for high-volume producers is 278 yuan lower than that of individual farmers. Their revenue from the harvest is also higher.
The province plans to encourage more farmers to transfer their land rights and has pledged to continue improving the services it offers - provision of information, consultancy work, ensuring the legality of contracts and price evaluation - to accelerate the process.
Jilin province
In 2012, Jilin began to promote the use of arable land as collateral for mortgages and loans. The process works like this: Farmers transfer two-thirds of the revenue from their land's grain harvest to a government-owned property finance company for a specified number of years. The company then applies to local financial institutions on behalf of the farmers. If the loan or mortgage is agreed, the money is then given directly to the farmers.
It's estimated that if the practice were to be adopted by every farmer in the province, the total funding available would be 20 billion yuan. However, statistics released by Jilin Provincial Finance Office show that from August 2012 to August this year, farmers were provided with loans totaling 296 million yuan.
He Na and Han Junhong