Urban-rural divide
The booming urban property market has been one of the main engines of China's rapid economic development, but the rules governing ownership of rural land have remained unchanged for decades, a state of affairs that has hampered development in the countryside.
On Nov 12, Anhui issued a detailed directive that pledged to extend the pilot program across its 20 counties and districts to establish a unified rural land market.
The directive came at the same time that a 60-point decision paper was approved at the Third Plenum of the 18th Communist Party of China Central Committee. The decision promised to accelerate the building of a new system of agricultural operation, based on a mix of farms run by families, collectives, cooperatives and businesses. No timetable has been disclosed, but farmers will be given greater property rights and a market for the trade in those rights will be established.
"The decision can be seen as one of the most progressive moves to develop the rural economy and close the widening urban-rural wealth gap in the 35 years since the third plenary session in 1978," said Zhao Kun, a senior official at the Department of Rural Economic System and Management at the Ministry of Agriculture.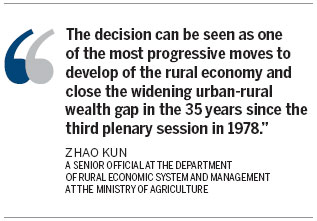 "Under Chinese law, all urban land is owned by the State, while rural land is under collective ownership. That means farmers have the right to use the land, but no right to sell or develop it. The dual nature of the urban-rural structure is one of the main obstacles to integrated development and every effort must be made to allow farmers to participate in China's modernization," he said.
Zheng Fengtain, vice-dean of the School of Agricultural Economics and Rural Development at Renmin University of China, told China Economic Weekly in November, "Land is a farmer's biggest asset, but the restrictions that prevent the market transfer of rural land have not only damaged farmers' rights, but also resulted in problems in land acquisition and sent the prices of land and property soaring."
According to Zheng, the productivity of land is a fundamental factor in a country's overall economic development.
"If rural land under collective ownership were put on the transfer market, it would definitely bring abundant business opportunities to the rural areas and related industries. But the precondition is that we have to understand how to divide the interests fairly and transparently and provide a safeguard against the abuse of local government power," Zheng said.