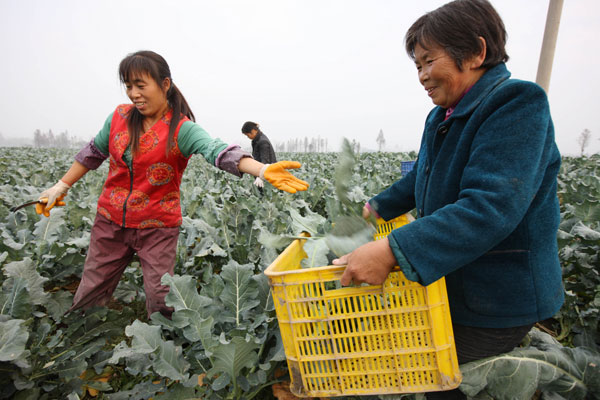 Rural workers in the fields in Mengcheng county, Anhui province, which operates the land rights transfer system. [Photo by Hu Weiguo / for China Daily]


New policy to allow transfer of land-use rights will help boost development of rural economy, report Wang Zhenghua in Anhui province and He Na in Beijing.
When Shi Quan arrived in Fengyang, Anhui province in 2006, he immediately sensed a business opportunity.
Shi realized that the system whereby farmers worked scattered plots of often unproductive land was outdated, so he set about changing it.
The recent graduate persuaded a group of farmers in Dawangfu, a village in Fengyang county, to rent him the rights to their adjoining fields and began growing greenhouse vegetables, flowers and garden plants on an extended scale. His intensive regime and his increased use of new technology proved far more efficient than the old system, increasing output by as much as 500 percent.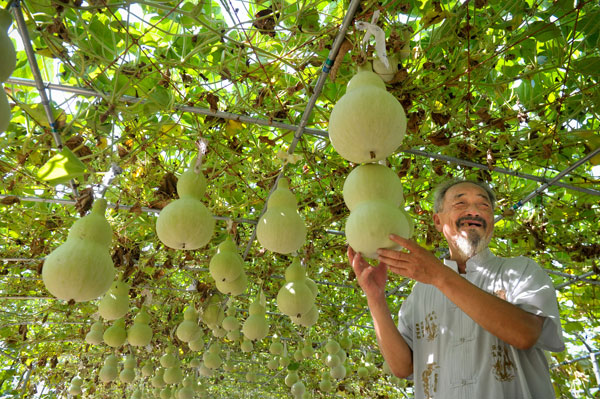 A farmer shows off his produce in Xiaogang village, Anhui province. [Photo/Xinhua]
"Modern agriculture requires the integration of resources and management of scale," he said. "And land is the most important resource of all."
The idea quickly caught on. Within a short time, businesspeople and some of the more enlightened villagers started renting the rights to forgotten or fragmented pieces of land in the village, located 500 kilometers southwest of Shanghai.
Shi and his fellow entrepreneurs were pioneers. A pilot program was launched later in some parts of Anhui and a number of other provinces that allowed farmers to swap, rent out or subcontract work on their land.
In 2008, the authorities in Fengyang set up the Fengyang Rural Land Transfer Trading Center to facilitate the transfer of land-use rights and legitimize those that had already taken place. Yiwu in Zhejiang province, the Pinggu district of Beijing and the Wuqing district in Tianjin followed in Fengyang's footsteps and established similar agencies.
The program is now regarded as a potential major reform in the agricultural sector and is seen by some as a successor to the "household contract responsibility system", which began in Xiaogang - also in Fengyang county - in the late 1970s and was quickly adopted nationwide.
The household contract responsibility system allowed families to run farms independently, even though the land remained in the ownership of the rural collective. But as time goes by, the once efficient system has proved it's not perfect. The farming practice based on individual households has low efficiency and cannot meet the demands of modern agricultural development. Farmers working individually on a small plot they contract fail to compete with big professional rural groups that work on large pieces of land.