Students to fight corruption, report Zhang Yuchen, Wu Wencong and Tang Yue in Beijing.
Li Chuanwen has a very specific role among the other ambitious, new prosecutors: He has been specially trained to nail corrupt officials.
Li is one of the first batch of 24 graduates of a master's program called "Investigation into Graft and Malfeasance of Duty", popularly known as the anti-corruption master-level class, run by Renmin University of China and the Supreme People's Procuratorate of China.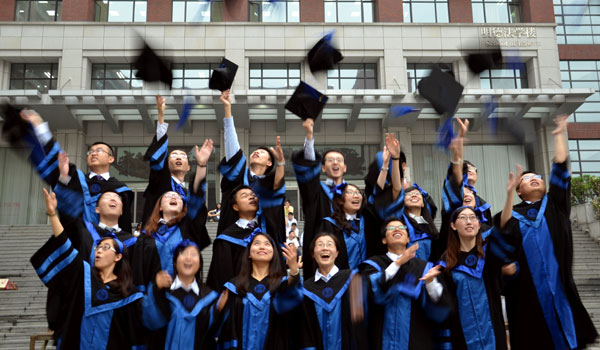 The first students of the so-called anti-corruption master class celebrate their graduation in June. Having completed three years of study, more than half of the 24 graduates entered the procuratorate system to fulfil their ambitions of cracking down on corrupt officials. Provided to China Daily
During the three-year program, the 27-year-old, who works at a district prosecutor's office in Beijing, has acquired a raft of technical skills, including the collection of physical evidence, fingerprinting and interrogation.
Meanwhile, business graduate Li and his classmates have also learned how to use a lie detector and have honed their interrogation techniques through role-playing in a mock interview room, while the rest of the class observed the proceedings from behind a one-way mirror.
"The students wouldn't have attracted so much public attention if China's anti-corruption drive hadn't become such a hot topic," said He Jiahong, a professor at the Law School of Renmin University of China who founded the program. "If not for that, it might have been seen as just another new course provided by a law school."
'Tigers' and 'flies'
The battle against corruption has been at the top of the political agenda since China's new leadership took office in March. The Chinese Communist Party chief, Xi Jinping, has vowed to "put power in a cage of regulations" and initiated a crackdown on corruption, aimed at "tigers" and "flies", references to high- and low-ranking officials.
After years of research into criminal investigations, He believes that the public security departments have formulated a set of mature investigative techniques and a stable training and education system.
"But procuratorates, especially at the grass-roots level, lack professional investigators who can work effectively and efficiently," he said, adding that he regards the problem as a failure of skill sets and launched the course to rectify the situation.
The program started three years ago with 24 students. When they graduated this summer, 15 went to grass-roots level prosecution offices and three began work at municipal-level justice departments. The rest decided not to pursue careers in the anti-corruption drive.
The school has close ties with procuratorate departments and regularly invites working officials to deliver lectures. Officials and prosecutors have provided exclusive four-hour seminars and spoken about the practical side of anti-corruption activities.
The seminars are only open to the "anti-corruption majors" and students are forbidden from discussing the contents of the conversations and seminars with outsiders.
Eight high-level officials have mentored the students during internships and advised them on how to find jobs.
During the final year of the program, the students worked as interns in various departments of the procuratorate system, and some even gained first-hand experience by participating in actual investigations.
He said the program looks for candidates with a strong overall performance level, especially in logic and analytical skills. The students come from a wide range of backgrounds; some are economics graduates, while others have studied accounting, computer science and journalism, skills that could be a huge advantage in their future careers.
Motivation is a key factor. He recalled an enrolment interview he conducted back in 2010 with an applicant whose family had been involved in a lawsuit and lost. The young man was convinced that his family lost the case because they had no contacts within the procuratorate. In response, he applied for the course so the family would gain that connection.
He said he was so saddened by the statement that he didn't approve the application.
By contrast, Qu Sainan, who has a degree in social work, said she joined the program because she has been always enthusiastic about graft busting. "The dream of becoming a prosecutor encouraged me to apply when I finished college."