Chinese Web users are so used to free content that they are unwilling to pay to watch movies online. However, Internet providers are changing their business models to increase profits, as Jiang Xueqing reports from Beijing.
Yang Lei, a 25-year-old student at Zhejiang University of Finance and Economics, loves comedy movies and stuffed animals.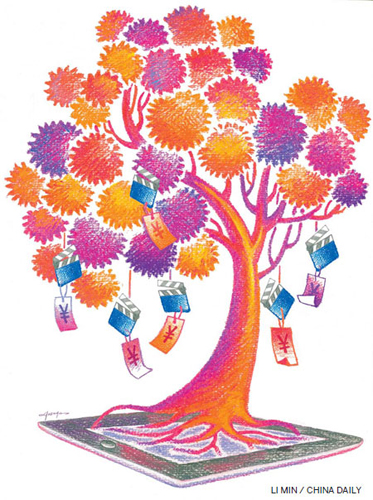 As such, she was desperate to see Ted, a Hollywood comedy based on the adventures of a man and his teddy bear, which was released by Universal Pictures in June.
Yang was unable to find the movie at any of her local cinemas, so she decided to use the paid premium-content platform of Youku, one of China's best-known online video websites.
"I was reduced to tears when the teddy bear was torn to pieces at the end," said Yang. "The film isn't being shown in theaters in China. I'd been looking forward to seeing it and had searched for it on the Web, but I couldn't find a high-resolution version to download. Instead, I decided to pay for it when it appeared on the video platform."
Yang spent 5 yuan (80 US cents) on the movie, a fraction of the 70 yuan she would expect to pay to see a typical Hollywood import at a movie theater.
"Watching films online is cheap and gives me the freedom to arrange my schedule," she said. "I'll pay for an online film if I'm really interested and there's no high resolution version to download from the Internet."
After years of delivering free content, China's leading online video websites such as Youku Tudou, Sohu TV and iQiyi are experimenting with subscription and pay-per-view services. All of these websites have expanded their copyright cooperation with the dominant Hollywood film companies that supply most of the movies listed for subscription.
Tencent Video launched its Hollywood Theater platform on Nov 12, offering subscribers access to a bundle of nearly 400 films at the discounted price of 20 yuan per month. In addition to new releases such as Argo, a US-made thriller starring Ben Affleck, and Dark Shadows, a comedy-horror directed by Tim Burton, subscribers will gain a 50 percent discount for pay-per-view services and freedom from onscreen advertising.
'Subscription is key'
Also in November, Youku Tudou announced a five-year agreement with Sony Pictures Television. The agreement will allow the Chinese provider to introduce more than 300 new and classic titles to its paid Youku Premium platform, with new releases and classic titles from Sony added every year. Since the company officially launched the platform in June 2011 after reaching a digital distribution agreement with CAV Warner Home Entertainment, it has signed similar deals with Paramount, Walt Disney, DreamWorks, NBC Universal, 20th Century Fox and Lionsgate.
All the imported films will be put into the Youku premium content library, charging subscribers 15 yuan per month or 5 yuan per view for random visitors.
"Subscription is the future direction for the development of online video services. It will diversify our profit patterns," said Ma Ke, general manager of the copyright procurement center of Sohu TV.