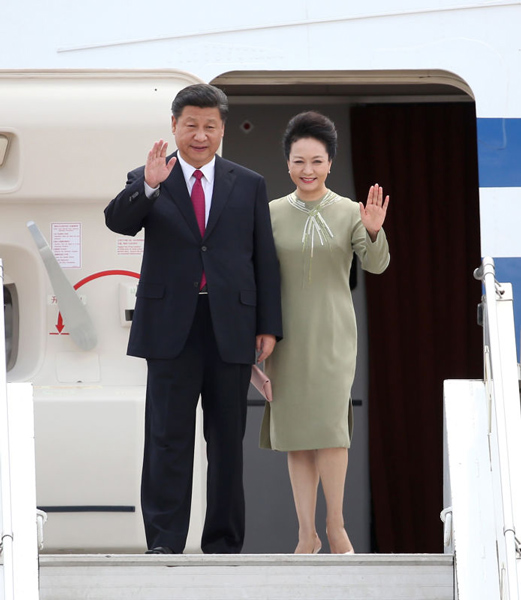 Chinese President Xi Jinping(L) and his wife Peng Liyuan wave upon their arrival in Pretoria, South Africa, Dec 2, 2015. Xi arrived here on Wednesday for a state visit to South Africa. [Photo/Xinhua]
PRETORIA -- Chinese President Xi Jinping arrived here Wednesday for a state visit to South Africa before co-chairing the Johannesburg Summit of the Forum on China-Africa Cooperation (FOCAC).
The China-South Africa comprehensive strategic partnership is witnessing rapid development, and relations between the two countries have entered the best times in history, Xi said upon his arrival after concluding a two-day visit to Zimbabwe.
The Chinese president said he expects to have in-depth exchange of views with his South African counterpart, Jacob Zuma, on bilateral relations and international and regional issues of common interest, so as to push the two countries' comprehensive strategic partnership to a higher level.
Xi, accompanied by his wife Peng Liyuan and other senior officials, is on his second visit to the "rainbow nation" as China's head of state.
Though geographically far apart from each other, the people of China and South Africa have enjoyed a friendship that becomes increasingly solid with the passage of time, Xi said in an article "A Rainbow of Friendship" published on the Star newspaper of South Africa ahead of the visit.
In 1998, China and the new South Africa established diplomatic ties, ushering in a new era of China-South Africa relations. Over the 17 years since then, China-South Africa relations have developed across the board, read the article.
"Upgraded from a partnership to a strategic partnership and then to a comprehensive strategic partnership, our relations have made a historic leap forward and become one of the most dynamic and important bilateral ties in our respective foreign relations," Xi said in the article.