President Xi says relations with Russia at 'best time in history'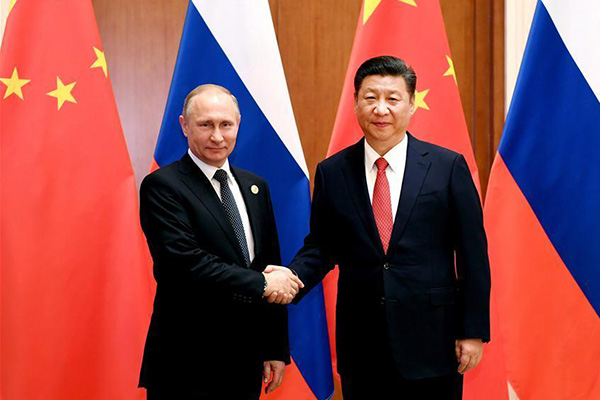 President Xi Jinping (R) meets with Russian President Vladimir Putin, who is here for the Belt and Road Forum (BRF) for International Cooperation, at the Diaoyutai State Guesthouse in Beijing, May 14, 2017. [Photo/Xinhua]
BEIJING - President Xi Jinping reiterated on Monday that China-Russia relations are at their "best time in history," saying the two nations are each other's most trustworthy strategic partners.
Xi made the remarks during an interview with Russian media ahead of his state visit to Russia.
The two countries have built high-level political and strategic trust, the Chinese president said, noting that China and Russia have completely resolved their border issues left by history, turning the 4,300-km boundary line into a bond of friendship between the two peoples.
China and Russia have also established healthy mechanisms both for high-level exchanges and for cooperation in various fields, Xi added.
"President (Vladimir) Putin and I have built good working relations and a close personal friendship," Xi said.
"I will start a state visit to Russia at the invitation of President Putin. I believe the visit will inject new impetus to the development of the China-Russia relations," Xi said.
As for bilateral cooperation, Xi said that China-Russia cooperation in various fields, including energy, trade, investment, high technology, finance, infrastructure and agriculture has been growing rapidly since he and Putin reached an important consensus on aligning the Belt and Road Initiative with the Eurasian Economic Union.
According to the Chinese president, the two countries are also working together to tap their cooperation potential and foster new growth areas in bilateral cooperation.
"The fast-growing, pragmatic cooperation has become the locomotive in the continuous development of the China-Russia relations," Xi said.
Meanwhile, Xi said that the two countries have also witnessed rapid development of people-to-people and cultural exchanges. They also maintained close strategic coordination on global and regional affairs, serving as a ballast stone in safeguarding global and regional peace, security and stability, Xi added.
Looking into the future, Xi said he is confident about the development of the China-Russia comprehensive strategic partnership of coordination, and he is ready to work with President Putin to help guide and promote the continued and healthy development of China-Russia ties.