Russia expects a surge in Asian investment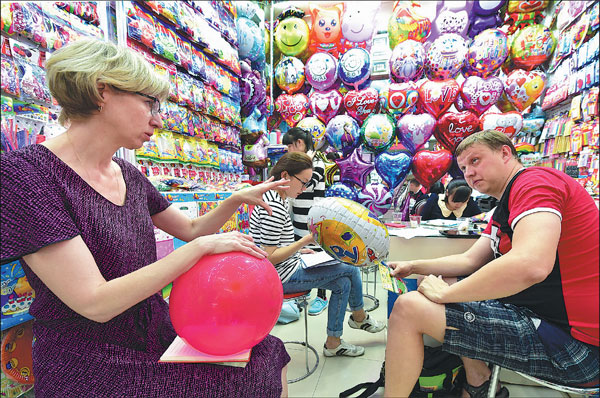 Buyers from Russia check out balloon products at Yiwu International Commodities Mall, Zhejiang province. Lyu Bing / For China Daily
Russia's "pivot to East" continues, which will make Russia-China ties even more dynamic through bilateral trade, cross-border initiatives and corporate deals. Russia's economic recovery, along with Asian institutional and private investors' decision to venture overseas, is creating a positive trade and investment environment.
The International Monetary Fund predicts strong near-term Asian outlook. Despite potential tighter monetary policy and curbs on domestic asset prices, China's GDP is still expected to grow 6.5 percent a year and the country is expected to be a leading cross-border investor by 2020, with global offshore assets tripling to nearly $20 trillion. And China's global stock of outbound foreign direct investment, including investment in corporate mergers and acquisitions, and startups, may increase to about $2 trillion by 2020.
There is also a rapidly growing pool of Asian capital that must be invested. According to PricewaterhouseCoopers, assets under management in the Asia-Pacific region will increase from $7.7 trillion in 2012 to $16.2 trillion by 2020. Pension fund assets alone will grow by 9.5 percent a year to $6.5 trillion by 2020.
Sovereign wealth funds are rich capital sources with diverse agendas and investment goals. Along with institutional investment growth from pension funds, they help governments seek greater adoption of defined contribution plans and individual retirement plans. Mutual funds, too, are being fueled by the emergence of the middle class in Asia. And rapid accumulation of wealth in the region is further increasing investable capital among high-net worth individuals.
Besides, declining yields have shifted Asian investors' cash toward equities and emerging markets from their more common fixed income and property investments. Russia's return to Eurobonds last year after three years, too, is a reflection of Asian demand. Two deals, one in May and one in September worth $1.75 billion and $1.25 billion were highly subscribed to by Asian investors.
The Russian central bank recently encouraged investment by creating market infrastructure for its first yuan-denominated OFZ bonds, diversifying funding sources and increasing liquidity for Russia. It also paved the way for Russian corporate bond placements in China and provided direct Asian investor access. This shows Asian state and private corporations' investment interest in Russia is growing steadily, with the focus areas being natural resources, transport and infrastructure, healthcare, real estate and agriculture.
From corporate companies, we have seen many large transactions and cross-border initiatives involving Chinese enterprises, especially in oil and gas. Such projects include supply agreements, asset transactions, financing, and joint investment. For example, Rosneft and ChemChina recently agreed on a framework for further implementation of the Far-Eastern Petrochemical Company project, while Gazprom and the China National Petroleum Corporation agreed to build a tunnel under the Amur River as part of the Power of Siberia gas pipeline. And Chinese companies have invested 16 billion yuan ($2.4 billion) in development projects in Russia's Far East.
Chinese investors are also acquiring Russian assets in partnership with existing Russian shareholders, and Russian and Chinese banks would do well to support such ventures. Legislation enhancing protection for foreign investors in Russia is making such acquisitions popular, improving financial infrastructure and expanding business ties between the two countries.
Moreover, Alibaba Group's agreement to expand retail and payment operations in Russia with several Russian bank partners, including VTB, is sign of Asian companies' expansion in Russia. At the 2nd Eastern Economic Forum last year, the Republic of Korea's Hyundai Engineering and Hyundai Engineering and Construction signed a multi-billion dollar deal with a subsidiary of Russia's National Chemical Group to build fertilizer production facilities in Nahodka, Russia.
As Russia continues its active engagement with Asia to develop its Far East Region, we expect more investment from Japanese, ROK, Indian and ASEAN companies this year. Russia has vast investment potential, and Asia, a strong and growing pool of capital. Russia is home to massive natural resources but to use them we need infrastructure investment, and China and other Asian countries have the experience and expertise to build large-scale infrastructure projects.
With strong government support for closer Russian-Asian cooperation, and measures to make Asian investors aware of investment opportunities in Russia, we are confident that Asian flow of investment into Russia is likely to grow strongly in 2017 and beyond.
The author is the CEO of VTB Capital in Asia.