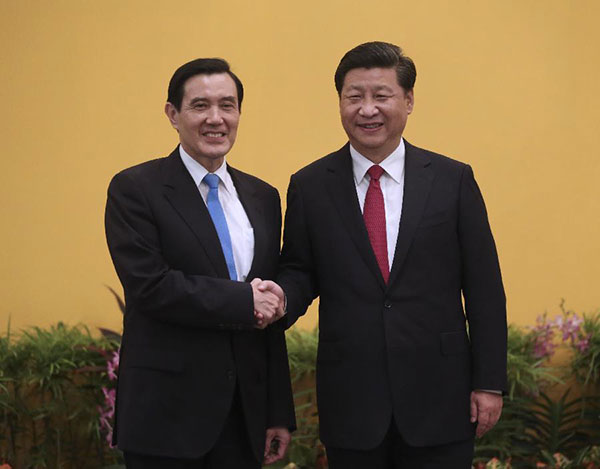 Xi Jinping (R) shakes hands with Ma Ying-jeou during their meeting at the Shangri-La Hotel in Singapore, Nov. 7, 2015. [Photo/Xinhua]
It has been a month since the historic meeting between Xi Jinping and Ma Ying-jeou ended in Singapore on November 7. On reflection, I think the meeting will move cross-Straits relations a big step forward, offering unprecedented opportunities for future cross-Straits development.
First, trade and economic relations across the Straits will be greatly strengthened.
By sticking to the 1992 Consensus reflecting the one-China principle, the two sides have signed 23 agreements since bilateral relations took a warm turn in 2008, helping lift trade volume to $170 billion by the end of last year. Currently, there are 2 million Taiwan people working and living on the mainland.
Although Taiwan has some advanced technologies, it lacks a big market, and doing business with the mainland has great potential, noted Huang Yung-Chien, CEO of Anhui-based Anqing Anxin Sporting Goods Co Ltd, citing his 28 years' business experience on the mainland and his three mainland-based plants.
With the face-to-face meeting and peace and stability being maintained across the Straits, Taiwan entrepreneurs can not only tap the mainland's huge market, but also join hands with their mainland counterparts to better venture into other markets to earn more profits.
The newly-adopted proposals for the nation's 13th Five-Year Plan has opened the door for more space for economic and trade cooperation across the Straits, and business people from both sides can cooperate closely in a bid to better tap the world market, said Jiang Yaoping, vice-president of the mainland-based Association for Relations Across the Taiwan Straits.
When President Xi asked the Taiwan's people to join the Belt and Road Initiative while welcoming Taiwan to join the Asian Infrastructure Investment Bank, he is also offering further bilateral links, according to Jiang.
Second, the well-being of people across the Straits can be further boosted.
The two sides across the Straits are of "one family". During the past seven years, more than 40,000 students have exchanged across the Straits, along with more than 8 million cross-Straits tourists per year.
Xi has called for improvement in macro-policy coordination and expansion in the space for economic cooperation, while agreements on freight trade and other matters could come quickly, along with cultural and educational exchanges and cooperation.
What the Kuomintang (KMT) and the Communist Party of China (CPC) are doing now is for the common good of the well-being of people across the Straits, and more advancement will come in this sphere, noted Shao Chi Chog, president of Anhui-based Xinhwa Gas Inc and vice-president of the Association of Taiwan Investment Enterprises in Ma'anshan.