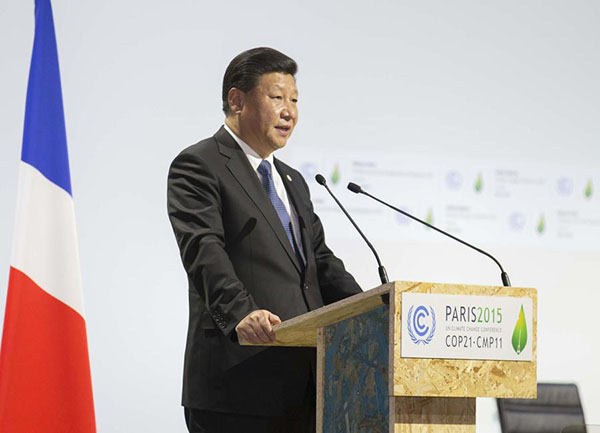 President Xi Jinping delivers a speech for the opening day of the World Climate Change Conference 2015 (COP21) at Le Bourget, near Paris, France, November 30, 2015. [Photo/Xinhua]
President Xi Jinping has just concluded his whirlwind tour of Paris, Harare, Pretoria and Johannesburg. In Paris, Xi delivered a strong message at the UN climate change conference, presenting China's vision of and contribution to global efforts to combat climate change. He visited Zimbabwe and South Africa to strengthen China's bonds with the two countries. In Johannesburg, he participated in the summit of the Forum on China-Africa Cooperation, promising to further deepen Sino-African cooperation. And during his visit to France, he also met with the US President Barack Obama on the sidelines of the climate conference, in order to stabilize bilateral ties.
These visits and meetings signify China's cooperative institutional-building efforts for a better world.
At the climate conference, Xi envisioned a new globally binding agreement that would promote the United Nations Framework Convention on Climate Change beyond 2020. Beijing has urged the developed world to fulfill its commitment to mobilizing resources both before and after 2020 to support developing countries adapt to and combat climate change. Also, Beijing will contribute $3 billion to "China Climate South-South Cooperation Fund" to exemplify its leadership in this regard.
The past few years have seen China making steady and bold efforts to fight climate change. The Intended Nationally Determined Contribution China issued in June says the country's carbon emission will peak in 2030, if not earlier, and it is committed to reducing its carbon emission per unit of GDP by 60-65 percent by 2030 from the 2005 level. It has also committed to raising its use of non-fossil fuels to about 20 percent of the total primary energy consumption mix by 2030. China may be the leading carbon emitter, but even as a developing country it has committed far more than most developed countries in relative terms to combat climate change.