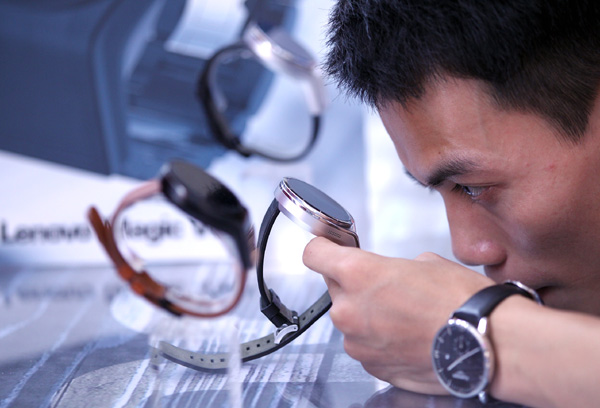 A visitor takes a close look at the smartwatch unveiled by Lenovo Group Ltd in Beijing, May 28, 2015. [Photo/China Daily]
The 13th Five-Year Plan (2016-20) has made it clear that consumption will play a "fundamental role" and investment a "key role" in China's economic growth.
Investment and consumption help maintain a country's economic growth and social stability. Consumption has been the basic driver of economic growth, while investment, determines a country's development stage and level.
In this context, developed countries' experience reveals certain development patterns. When a country's per capita GDP is comparatively low, the investment rate is correspondingly low and consumption rate high.
But when a country's GDP reaches a certain level, a stage at which it can meet people's basic needs of food and clothing, its urgent task is to achieve industrialization. This stage sees large-scale infrastructure construction, investment in enterprises and urbanization projects, which increase the investment rate but bring down the consumption rate.
In the third stage, when a country's industrialization, urbanization and modernization are basically complete and it enters the developed stage, its investment market becomes basically saturated and its investment rate declines. This signifies a relatively stable state when the consumption rate stabilizes too.
The changes in China's investment and consumption rates since the launch of reform and opening-up conform to this rule.
Normally, investments, consumption and exports together drive a country's economic growth. But now that China has embraced a "new normal" of sustainable development, the roles of the three growth drivers are gradually changing.
The growth rates of China's imports and exports have declined because of both domestic and external factors. General Administration of Customs statistics show that since 2012 China's import and export growth has dropped to single digit. From January to September this year, China's imports and exports declined 7.9 percent year-on-year. In the short term, it is difficult to reverse this declining trend.