Editor's note: China is one of the most popular vacation destinations in the world among foreign travelers. However, one thing that many people find surprising when they first get to China is the squat toilet. "Squat or sit" may be the biggest question of all and a large part of what keeps tourists from travelling out of their fear of the unfamiliar. Here, readers share some of their experiences with this issue.
Anne Ruisi (expat from America living in Beijing)
I grew up in the US, so I never learned how to squat and do my business. It can be a challenge when you're out in public to find a pedestal-type 'Western" commode instead of the ubiquitous squatty potty found in most facilities.
Sometimes I do find Western toilets when I'm out and about and sometimes I don't. If there isn't one, I do the best I can.
Until a short time ago, none of my office restrooms had a Western commode, so most times when nature called, I had to leave the building and go to either a nearby restaurant or café. The wait staff loved me – I felt obligated to buy something to use the facilities. We now have 1 Western toilet in the office. It's on another floor but well worth taking a flight of steps.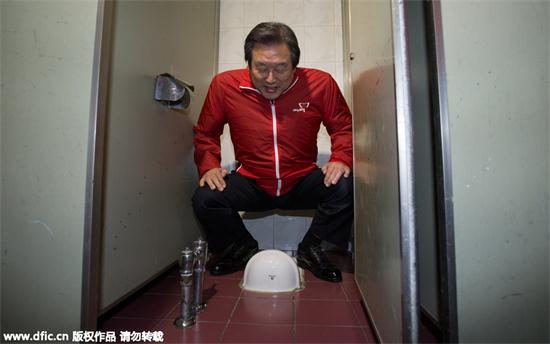 A Korean official inspects the facilities in a primary school. [Photo/IC]