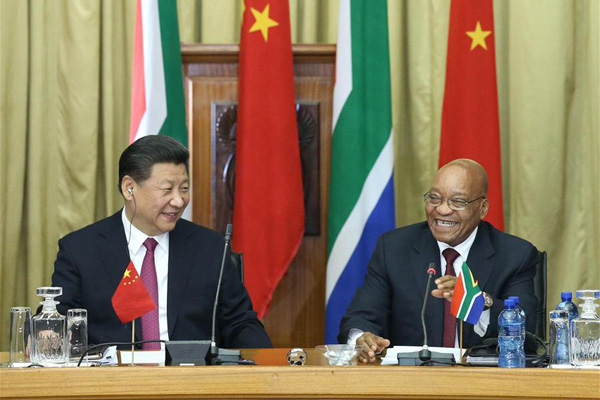 President Xi Jinping (L) holds talks with his South African counterpart Jacob Zuma in Pretoria, South Africa, Dec 2, 2015. [Photo by Pang Xinglei/Xinhua]
With environmental degradation threatening to undermine Africa's long-term economic growth and prosperity, this week's China-Africa summit, which begins on Friday, provides a critical opportunity to promote sustainable development.
Coinciding with the UN Climate Change Conference in Paris and following the adoption of the ambitious UN Sustainable Development Goals, the 6th Forum on China-Africa Cooperation in Johannesburg can help boost development and alleviate poverty in Africa while safeguarding the environment, protecting ecosystems that sustain human well-being, and mitigating the impact of climate change.
China has been Africa's largest trade partner for six consecutive years; the two-way trade reaching $220 billion in 2014. Africa's economies have grown considerably since FOCAC was launched in 2000, and China has contributed significantly through the forum by facilitating trade, investment, aid and development.
However, China and Africa's relations and long term prosperity can be threatened by economic and social challenges driven by environmental degradation, such as biodiversity loss, soil erosion, pollution and climate change, if infrastructure, manufacturing and mining projects are not properly planned and managed and do not follow best practices.
World Wide Fund for Nature (WWF) is urging FOCAC to incorporate clear goals and specific actions in its "Declaration and Action Plan" at the FOCAC summit on the sustainable use and trade of natural resources, responsible infrastructure development, clean energy, sustainable finance and the creation of a more inclusive process.