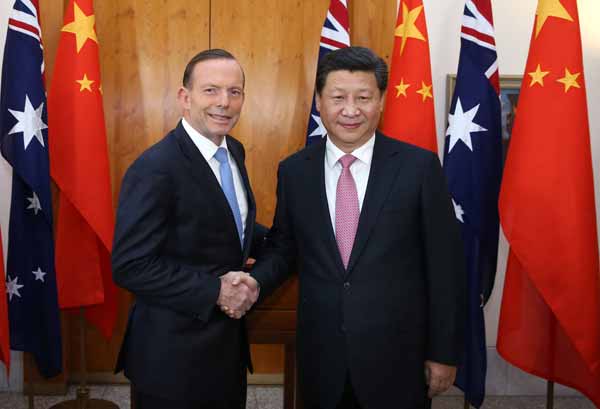 Chinese President Xi Jinping (R) shakes hands with Australian Prime Minister Tony Abbott during their meeting in Canberra, capital of Australia, Nov. 17, 2014. [Photo/Xinhua]
Changes in Australia's foreign investment regime have drawn concerns in both China and Australia.
Australia's parliament passed new rules on foreign investment on Nov 24, which lowered the benchmark for Chinese investment into agriculture from 252 million Australian dollars ($184 million) to 15 million Australian dollars.

In other words, all Australia-bound Chinese investments in the agricultural sector which exceed 15 million Australian dollars are now subject to review and approval from Australia's Foreign Investment Review Board.
In stark contrast, the threshold for the United States (Australia's largest direct foreign investor), New Zealand and Chile will remain one billion Australian dollars, while Singapore and Thailand's threshold remains 50 million Australian dollars.
It is clear China is to be most closely scrutinized among Australia's foreign trade partners.
Such an arrangement is unfair to Chinese investors who deserve a level playing field to compete as equals with Australia's foreign trade partners. From no won, any talk that Australia welcomes Chinese investment will sound hypocritical.
Whether for its own economic interests or the smooth implementation of the free trade agreement it has signed with Beijing, Canberra should have done more to facilitate Chinese investment rather than setting obstacles in its way.
It will be interesting to see what those who have been preaching free trade and criticizing China for its domestic competition environment have to say about Australia's retrogression in the spirit of free trade.
Since the birth of the new regulation, some Australian politicians and experts have tried to clarify that the new rules do not target China. But it seems they cannot even convince their own countrymen.
In an article published on the website of Australian newspaper The Financial Review, James Laurenceso, deputy director of Australia-China Relations Institute at the University of Technology Sydney, said Chinese investment has already been scrutinized far more closely than investment from any other country.