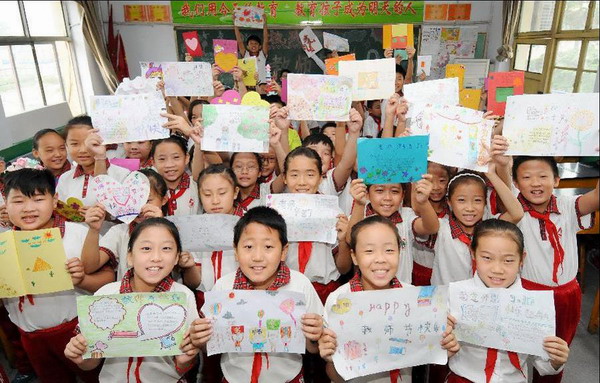 Pupils display self-made cards for teachers before Chinese Teachers' Day at Dongguan Yifu Elementary School in Shijiazhuang, capital of North China's Hebei province, Sept 9, 2015. China's Teachers' Day falls on Sept 10 every year. [Photo / Xinhua]
I was recently surprised by a school in China that had the school manager spying on classes through a window while taking photos. My enquiries revealed that this just a typical school that has no trust in their teachers. They (teachers) have to be watched to ensure that students' behavior is adequately controlled. This further proves that in China, teaching is not a profession but a job. Encouraging and advising to help schools create a more professional teaching environment is difficult because of this lack of trust. Indeed it may be a fundamental difference between education in the West and in the East.
Teachers in the West have earned respect and trust over many years, and are trusted to act professionally without supervision. Abuse of this trust usually results in steep consequences.  Supervision and the assessment of staff are done by appraisal systems. Teachers are comfortable in seeking help from management and other teachers if they have a problem.
Many teachers in China must do as they are told to achieve high results with their students. If they don't follow the rules they face deduction of salary or dismissal. Sharing of problems and seeking help is considered an indication of weakness. Most teachers fear management and are rarely rewarded for good practice. The result is a lack of initiative, reluctance to share and a reluctance to do any more than they are required to do. Inadequate appraisal systems along with traditional suspicion that workers do not do their duties without constant supervision, inevitably leads to a need for spying.
In the West, it is the leaders of a subject department who monitor the work of their teachers. They regularly look at students' work, look at value added test results, and talk with students and parents. They know quickly and without secrecy which teachers need help and which ones are doing well.
In China, some teachers fear that students not made to sit properly for 12 hours a day will result in punishment for them (the teachers). They fear making proposals to change things for the better. They fear being noticed. They fear being forgotten. They fear other teachers gossiping about them.  They fear their students getting very high marks because other teachers will say bad things about them. They fear low results. They fear complaining. They fear a manager peering through the window at them.
Teaching is one of the highest valued professions and until it is developed and treated as, the education will inevitably be second rate. There must be trust and respect in a profession. I feel that there is a lot of respect and trust from parents in teachers here, but less so from school management.