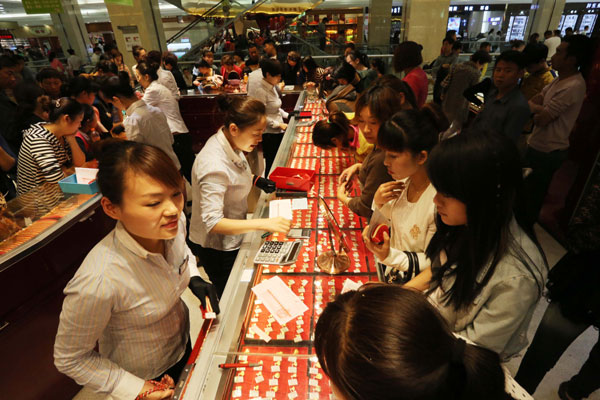 Customers choose gold jewelry at a shop in Xuchang, Henan province, during the May Day holiday. China's gold jewelry consumption jumped 30.2 percent year-on-year in the first quarter of this year to 232.53 metric tons. GENG GUOQING/CHINA DAILY
The terrorist attacks in Paris and the shooting down of a Russian fighter jet by Turkey have definitely added more uncertainties to the already weak global growth.
So this year's Black Friday annual shopping ritual in the US has added significance as it shows the way the world's two largest economies can better drive global growth.
With consumer spending one of the few bright spots in the generally gloomy outlook for global growth, policymakers from major economies such as China and the United States should work closely with each other and coordinate their efforts to shore up domestic consumer confidence so it can act as a brace for the looming storm likely to be triggered by either the worsening international situation or increased global financial instability.
As if the Greek sovereign debt crisis and the roller-coaster ride of the Chinese stock market had not made the first half of 2015 dramatic enough, terrorism and complicated global responses have significantly increased global uncertainties, which were already inflated by the possible consequences of the looming divergence of monetary policies in the US and the euro - zone, a significant risk to global trade and economic growth in the coming years.
Both world trade and global growth are heading for their weakest years since 2009. The World Trade Organization expects trade growth of 2.8 percent this year while the International Monetary Fund has cut its global growth forecast to just 3.1 percent.
The latest data suggests that the trade volume of global merchandise grew by merely 0.7 percent year-on-year in the third quarter, after contracting in the first six months of this year. That has practically made this year the fourth consecutive year in which world trade volume grew by less than 3 percent; even grimmer than the WTO has predicted.