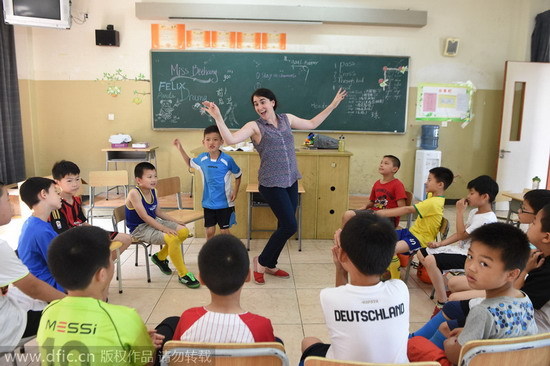 I know what this school hired me to do; they hired me to be fluff. They hired me to be panache. To offer some extra pizza for those studying English, and for every other student on campus who did not select English as their major. I am not expected to teach grammar, vocabulary, compositions, literature, or anything official. My Chinese counterparts are tasked with those duties. My only job is to make students talk, and occasionally correct mispronunciations. I'm pretty good at it.
Recently, our junior students – indeed English Major students all over China - got their TEM-4 results. I don't know about the rest of China, but the students in my school were devastated. On our campus, only 40 students passed this career-defining exam.
Let's back up for a second. The TEM-4 stands Test for English Majors. Every student engaged in such studies is required to take this exam during the spring semester of their sophomore year. Every fall, the results are published. The prospect of testing is so daunting that everyone fairly quivers at the mere mention of that dreadful acronym, and for good reason. In the five years I've been here, I've yet to hear a majority of students passing on it on the first try. Some don't pass it on the second try either.
Every year, when hearing the miserable outcome of this exam, I rail against the system that so poorly prepares students. Every year, I wonder, 'couldn't more be done to assure passing grades for the majority?'
Over the years I've taken this issue up with colleagues and department leadership. Until this year, I've gotten a lot of nods, hand pats, and appraisal for caring so much, but with no changes or results. This year I was shocked to learn nationwide test statistics. Only 38 percent of English Major Students nationwide pass TEM-4 every year.
I suppose I should be happy because our department came in at 1 percent point above the national average.
Does anyone else find it outrageous that after six years of English studies, students are so unprepared for their most important exam (after the GaoKao) that more than half fail?